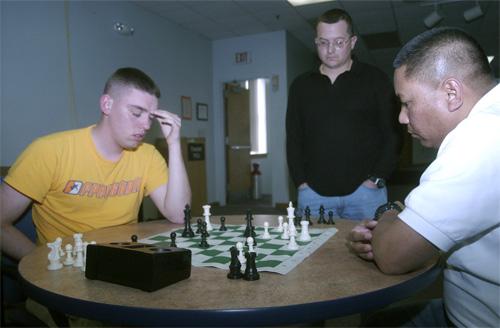 The New Jersey State Chess Federation (NJSCF) "Sets for Vets" has been a great success.
Over 1200 sets and 160 chess computer games were distributed to 146 VA hospitals and Care Centers as well as to our troops in Iraq and Afghanistan.
100 sets so far to Iraq plus another 100 pocket sets
51 chess clocks and a case of 80 chess books and 12 autographed chess books by Grandmaster Lev Alburt!
Grandmaster Lev Alburt donated a case of Chess Books (76 books) and a chess set that went to 76 VA Hospitals!
60 Braille Chess sets have been sent to 60 hospitals with a goal of 86 more as soon as more donations come in.
We had inquiries about setting up chess programs in VA hospitals and now several hospitals have a chess program!
We need your help. We need volunteers to visit our veterans and play chess with them or to start instructional programs.
Adopt-A-VA Hospital:  We would like to ask all chess clubs to adopt a VA hospital in your area and visit and play chess with these wounded heroes.  Sets for Vets committee members; Joe Ippolito, Bill Bluestone and Dr. Frank Schott are all volunteers, if you'd like to work with a hospital, please inquire to confirm that no one is already assigned.
If you wish to volunteer please contact the U.S. Chess Trust for more information: info@uschesstrust.org.  Chess equipment may also be donated for the Sets for Vets program.
You may contact a VA hospital from the list below. The NJSCF has compiled a list of facilities, sorted by state, for your convenience.