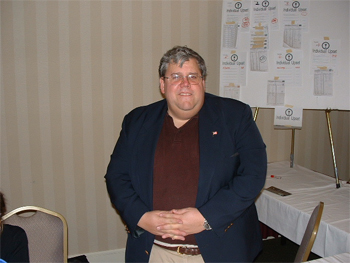 President US Chess 84-87
Founder of US Chess Hall of Fame & Museum
Established School Mates
Purchased Scholastic Tournaments from CCA
brought Collegiate championship into USCF, best 3 financial years in USCF history–established
President NJSCF 6 years–20 years as an officer
President Toms River & Wayne Chess Clubs
Organizer of the World Amatuer Team, US Team, 2 US Opens, 15 US Amateuers, 3 US Class, National HS, National K-12, US Senior, US Championship, US Junior, US Womens, US Blind, Many state scholastics, NJ Open, over 500 club tournaments, Simultaneous exhibition–Korchnoi, Reuben Fine, Edward Lasker, Botvinnik, Petrosian, Tal, Spassky, Karpov, Bronstein, and virtually every US GM.
Vice President FIDE, Only living American made Honary Member FIDE, Past chairman–LMA, Finance
Past President US Chess Trust
Past Treasuer, US Chess Trust–3 tours of duty
U.S Chess Trust Trustee since 1988
Steven is married and has 2 children. He is a rated player—active in postal, blitz and over the board, MBA finance, Senior leadership position in 2 Fortune 100 companies.