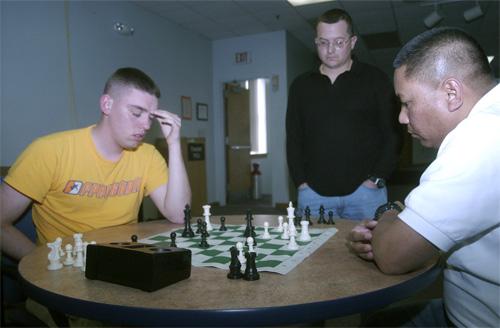 A special thanks to Anna Matlin and the 5th grade class in Berkley Heights, NJ for their donation!
The New Jersey State Chess Federation (NJSCF) "Sets for Vets" has been a great success.
In 2005 $13,750 was raised by the NJSCF from individuals and Aetna Insurance. Oct. 2006, The New Jersey State Chess Federation (NJSCF) just donated $1,000!
Over 1200 sets and 160 chess computer games were distributed to 146 VA hospitals and Care Centers, as well as to our troops in Iraq and Afghanistan.
100 sets so far to Iraq, plus another 100 pocket sets, 51 chess clocks and a case of 80 chess books and 12 autographed chess books by Grandmaster Lev Alburt!
In addition to what Lev has so graciously donated I'd like to report that just recently (July 2006) Lev donated a case of Chess Books (76 books) and a chess set that went to 76 VA Hospitals!
So far 60 Braille Chess sets have been sent to 60 hospitals with a goal of 86 more as soon as more donations come in.
We had 26 inquiries about setting up chess programs in VA hospitals with 4 hospitals now having a program!
But now we really need your help ! We need you to volunteer to visit our veterans, to play chess or to start instructional programs.
The NJSCF has compiled a list of facilities, sorted by state, for your convenience.
If you wish to volunteer please contact the supervisor of Voluntary Services at that facility and also notify: Herman "Herm" Drenth at setsforvets@aol.com
Chess equipment may also be donated to Sets for Vets.
For mailing directions please contact Herm Drenth.
You can make a tax deductible donation to NJSCF through the Chess Trust by contacting Barbara DeMaro, Managing Director, ATTN: The U.S. Chess Trust, P.O. Box 838, Wallkill, NY 12589.
To qualify for your tax deduction, please make your check payable to the The U.S. Chess Trust.
Inquiries regarding The Chess Trust can be sent to info@uschesstrust.org.
Important note: Be sure to include a note that your donation is to be earmarked for, Sets for Vets.
If you wish to make a non-tax deductible donation you can mail your check payable to: The New Jersey State Chess Federation NJSCF, Attn: Ken Thomas – Treasurer, 115 West Moore Street, Hackettstown, NJ 07840, phone: (908) 763-6468. Be sure to note "Sets for Vets" on your check and make the check payable to: New Jersey State Chess Federation (NJSCF).
Volunteer your time for our wounded heroes ! Adopt a Hospital ; Please notify Herm of the hospital you wish to work with to confirm that no one is already assigned. Sets for Vets committee members; Joe Ippolito, Bill Bluestone, Dr. Frank Schott, Herm Drenth are all volunteers and 100% of all donations are used to purchase chess equipment for the wounded warriors!!
We ask all chess clubs to adopt a VA hospital in your area and visit and play chess with these wounded heroes.
You may contact a VA hospital from the list below. Funds go quickly so any donations are always welcomed. Every dollar donated goes to purchasing chess books and equipment!

VA hospital list

Alabama
Birmingham VA Medical Center, 700 S. 19th st. Birmingham, Alabama 35223, 205-933-8101
Central Alabama Health Care Center, 215 Perry Hill Road, Montgomery, Alabama, 334-272-4670
Tuscaloosa Veterans Hospital, 700 S.19th St. Birmingham, Ala. 35212
Dallas Veterans Hospital, 3701 Loop Rd. East, Tuscaloosa, Ala. 35404, 205-554-2000 Randy.lestourgeon@med.va.gov
Central Alabama Veterans Health Ctr. 2400 Hospital Rd. Tuskegee, Ala 36083, William.petty1@med.va.gov
Arizona
Northern Arizona Health Care Center, 500 N. Highway89, Prescott, Arizona 86313
2 Southern Arizona Health Care Center, 3601 S. 6th Av. Tucson, Arizona 85723, 520-629-1822, Deborah.brookshire@med.va.gov
Arkansas
Fayetteville VA Medical Center, 1100 N. College Ave. Fayetteville, Arkansas, 72703, 479-444-5060 carol.kick@med.va.gov 5/6
Eugene J. Towein Health Care Center, 2200 Fort Roots Drive, N. Little Rock, Arkansas, 72114-1706, 501-257-1000
John L. McClellan Memorial Veterans Hospital, 4300 West 7th St. Little Rock, Arkansas, 72205-5484, 501-257-1000
California
Central California Health care system, 2615 E. Clinton Ave. Fresno Cal 93703, Daniel.Goodro@med.va.gov
559-228-6907

Palo Alto VA health care center,3801 Miranda AV. Palo Alto Cal, 94304-1290, 650-493-5000
Northern California VA Health Care Center, 10535 Hospital Way, Sacramento Cal. 95665, 919-366-5366 juanita.DeLuna@med.va.gov
Long Beach Health Care System, 5901 E.7th St Long Beach Cal. 90822, 562-826-8000
Jerry L. Pettis Memorial VAMC 11201 Benton St. Loma Linda, Cal. 92357, 1-800-741-8387, Annie.tuttle@med.va.gov
Greater Los Angeles Health Care System, 1130 Wilshire Blvd. Los Angeles Cal 90073, C/o Carcie Brundlin 310-268-4350 kris.baugh@med.va.gov
San Diego VAMC 3350 La Jolle Village Dr. San Diego, Cal 56303 858-552-8585
San Francisco VAMC 4150 Clement St. San Francisco Cal. 94121-1598 415-221-4810
Colorado
Eastern Colorado Health Care Center, 1055 Clermont St. Denver Colorado 80220, 303-399-8020
Grand Junction VA Medical Center, 212 North Ave. Grand Junction, Colorado 81501, Toll free 866-206-6415
Connecticut
Newington VA Health Care Center, 555 Willard Ave. Newington, Connecticut 06111, 860-666-6951
West Haven VA medical center, 950 Campbell Ave. West Haven, Connecticut 06516, 203-932-5711, joseph.canzanella@med.va.gov
Veterans Home, 287 West Street, Rocky Hill, Connecticut 06067, 860-529-2571 X 2289, Dan Perrault
Delaware
Wilmington VA medical center, 1601 Kirkwood Highway, Wilmington, Delaware 19805, 302-994-2511, Karen.cavanaugh@med.va.gov
Bear Scholastic Chess Club visiting, Contact: Rich Martin
Florida
Georgia
Atlanta VAMC, 1670 Clairmont Rd. Decatur, Georgia 30033, 404-728-7728, Jan.moreira@med.va.gov
Carl Vinson VAMC 1826 Veterans Blvd. Dublin, Georgia 31021, 478-272-1210
Augusta VAMC 1 Freedom Way -, Augusta, Georgia 30904-6285, 706-733-0188, Anne.arnold@med.va.gov
Hawaii
VA Pacific Islands Health care system, 459 Patterson Road Honolulu, hi. 96819-1522, Patricia.wieland@med.va.gov 5/05
Spark M. Matsunaga VA medical center, Attn: Ms. Patricia Wieland, VA Voluntary Service Manager, Office of the Director, 459 Patterson Road, Honolulu, Hawaii 96819-1522. PATRICIA.WIELAND@med.va.gov
Idaho
Illinois
Illiana VA Medical Center, 1900 E. Main St. Danville, Illinois 61832-5198, 217-554-3000
Hines VA Medical Center, 5th ave & Roosevelt Road, Hines Illinois 708-202-2523, Bonnie.gunter@med.va.gov
Marion VA Medical Center, 2401 W. Main St. Marion, Illinois 62959 Rebecca.Shinneman@med.va.gov 618-997-5311
Indiana
Richard L. Roudebush VA Medical Center, 1481 W. 10th st. Indianapolis, Indiana, 46202, 317-554-0000
Northern Indiana-Marion Health Care Center, 1700 E.38th st. Marion, Indiana 46953-4589, 765-674-3321
Northern Indiana-Fort Wayne Health Care Center, 2121 Lake Ave. Fort Wayne, Indiana 46805, 260-460-1336
Iowa
Iowa City VA Medical Center, 601 Highway 6 W. Iowa City, Iowa 52246-2208, 319-338-0581, Gary.strank@med.va.gov
Des Moines VA Medical Center, 3600 30th st. Des Moines, Iowa 50310-5774, 515-699-5818 candace.davis@med.va.gov
Knoxville VA Health Care Center, 1515 W. Pleasant St. Knoxville Iowa 50138, 641-842-3101
Kansas
Kentucky
Louisiana
Alexandria VA Medical Center, 2495 Shreveport Highway 71 north, Pineville Louisiana 71360, 318-473-0010
New Orleans VA Medical Center, 1601 Perdido St. New Orleans, Louisiana 70112-1262, 504-568-0811 Deborah J Gottardi
Overton Brooks VA Medical Center, 510 Stoner Ave. Shreveport Louisiana, 318-221-8411
Maine
Maryland
Perry Point VA Medical Center, Perry Point, Maryland 21902, 410-642-2411
Baltimore Med Ctr. 10 N. Green St. Baltimore, Maryland 21201, 1-800-463-6295 Dallas.Renninger@med.va.gov
Massachusetts
New England VA health care center, 200 Springs Road, Building 61, Bedford, Mass. 01730, 781-687-3400
Michigan
Ann Arbor VA Healthcare System, 2215 Fuller Road, Ann Arbor Michigan 48105, 734-769-7100, Beverly.Lenesky@med.va.gov
Aled E. Lutz VA Medical Center, 1500 Weiss St. Saginaw, Michigan 48602, 989-791-2217, Laurel.Simmons@med.va.gov
Iron Mountain VAMC 325 E. H St. Iron Mountain Michigan 49801, 906-774-3300 Mark.frazee@med.va.gov
VA Medical Center, 5500 Armstrong Rd. Battle Creek, Michigan 49105, 269-966-5497 Margaret.trunick@med.va.gov
Detroit VAMC C/O Voluntary Service (118v) 4646 John R. St. Detroit Michigan 48226 Wayne.snyder@med.va.gov
Minnesota
St. Cloud VAMC 4801 Veterans Dr. St. Cloud Minn. 56303, 320-252-1670 Patricia.aljets@med.va.gov
Minneapolis VAMC 1 Veterans Dr. Minn. 55417, 612-725-2000
Mississippi
Missouri
Harry S. Truman Memorial VA Medical Center, 800 Hospital Dr. Columbia, Missouri 65201-5297, 573-814-6000
Kansas City VA Medical Center, 4801 Linwood Blvd, Kansas City, Missouri 64128, 816-861-4700
St. Louis VA Medical Center, 915 grand Blvd. St. Louis, Missouri 63106, 314-652-4100 marcena.gunter@med.va.gov
Montana
Nebraska
Nebraska/Western Iowa VA Health Care Center, 2201 N. Broadwell Av. Grand Island Nebraska 68805-2196, 308-382-3660
Nevada
Southern Nevada VA Health Care Center, 1000 Locust St. Reno Nevada 89502, 775-786-7200
Southern Nevada H.C S. P.O. box36001 North Las Vegas, Nevada 89036 Moase.martinez@med.va.gov
New Hampshire
Manchester VAMC 718 Smythe Rd. Manchester NH 03104, 603-624-4366
New Jersey
East Orange Medical Center, 385 Tremont Ave. East Orange NJ 07018-1095, 1-800-646-8262 or 973-676-1000 Mrs. Arnold rec director
Lyons VA Medical Center, 151 Knollcroft Rd. Lyons NJ 07939, 908-6470180X4327 or 908-604-5810 direct line to Bill Ouellette, rec director
New Mexico
New Mexico VA Health Care Center, 1501 San Pedro Dr. SE. Albuquerque New Mexico 87108-5153, 505-265-1711 sonja.brown@med.va.gov
VA Medical Center, 2100 Ridgecrest Dr. SE, Albuquerque, New Mexico 87108, 505-265-1711
New York
Samuel S. Stratton VA Medical Center, 113Holland Av. Albany, New York 12208, 518-626-5000, Karen.haas@med.va.gov
Bath VA Medical Center, 76 Veterans Ave. Bath, New York 14810, 607-664-4000
Western New York Health Care System, 3495 Bailey Ave. Buffalo, New York 14215, 716-862-8759 Mark.Francis@med.va.gov
Canandaigua VA Medical Center, 400 Frot Hill Ave. Canandaigua, New York 14424, 585-394-2000
Syracuse VA Medical Center, 800 Irving Ave. Syracuse, New York 13210, 315-425-4400
Bronx Medical Center, 130 Kingsbridge Rd. Bronx NY 10468, 718-584-9000, Michael.Abelson@med.va.gov
VA NY Harbor Health Care System, 800 Poly Pl. Brooklyn NY 11209, 718-630-3704 Keith Butcher
VA H.C.C. NY Campus,423E23rd st. NY, NY 10010, 212-686-7500 Frank.civitillo@med.va.gov
St Albans VA Med Ctr. 179th St & Linden Blvd, St. Albans NY 11425, 718-526-1000 Jeffry.Benke@med.va.gov
VA Hudson Valley Care System, Montrose Campus, Rt. 9A. PO Box 100 Montrose NY 10548-0100, 914-737-4400
Castle Point Campus, Castle Point NY 12511, 845-831-2000
North Port Med Ctr. 79 Middleville Rd. Northport NY 11768, 631-261-4400 X 7183 Lynn.Mott@med.va.gov
North Carolina
Ashville VA Medical Center, 1100 Tunnel Road, Ashville, North Carolina 28805, 828-298-7911
Durham VA Medical Center, 508 Fulton St.Durham, North Carolina 27705, 919-786-0411
Fayetteville VA Medical Center, 2300 Ramsey St. Fayetteville, North Carolina 28301, 910-488-2120
W.G. Hefner VA Medical Center, 1601 Brenner Ave. Salisbury, North Carolina 28144704-638-9000
North Dakota
Ohio
Oklahoma
VA Medical Center, 921 NE 13th St Oklahoma City. OK. 73104, 405-270-0501
VA Medical Center, 1011 Honor Heights Dr. Muskogee OK. 74401, 918-680-3621/3840 gregory.sorenson@med.va.gov
Oregon
Portland VA Medical Center, P.O. box 1034 (p5 vol), Portland Oregon 97239, 503-273-5019 kay.hilt@med.va.gov
Roseburg VA Health Care System, 913 NW Garden Valley Blvd. 97470, 541-440-1272 dona.brewer@med.va.gov
Pennsylvania
Pittsburg VA Medical Center, 7180 Highland Dr. Pittsburg, Pennsylvania 15206, 1-866-4va-pitt (toll free) Lorraine.kerr@med.va.gov
Coatesville VA Medical Center, 1400 Black Horse Hill Road, Coatesville, PA. 19320, Earl.Johnson2@med.va.gov
VA Medical Center, 3900 Woodlawn Av. Philadelphia, Pa. 19104, 1-215-823-5800X6613 Melisa.edonick@med.va.gov
Lebanon Med Ctr. 1700 S. Lincoln Ave. Lebanon, PA. 17042 717-228-6030 Kathy.hoge2@med.va.gov, Earl.Johnson2@med.va.gov
James E. Van Zandt VA Med Ctr. 2907 Pleasant Valley Blvd, Altoona PA 16602-4377, 814-943-8164X 714 cindy.eaton@med.va.gov
Wilkes-Barre VAMC 1111E.End Blvd. Wilkes-Barre PA. 18711 570-721-7237 Kimberly.hoge2@med.va.gov
Erie VAMC E38th St Erie Pa. 16504 814-868-8661 Karen.oneal@med.va.gov
VA Med Ctr. 325 New Castle Rd, Butler Pa 16001-2480 David.Virag@med.va.gov
Puerto Rico
Rhode Island
South Carolina
Ralph H. Johnson VA Medical Center, 109 Bee St. Charleston, South Carolina, 27401-5799, 843-577-5011
William Jennings Bryan Dorn VA Medical Center, 6439 Garners Ferry Road, Columbia, South Carolina 29209-1639, 803-776-4000
South Dakota
Tennessee
Alvin York Health Care Center,3400 Lebanon Pike, Murfreesboro, Tennessee 37129, 615-867-6000, Ann.Brown@med.va.gov
Nashville Health Care Center, 1310 24th Ave. S. Nashville, Tennessee 37212-2637, 615-327-4751, Sherry.pomeroy@med.va.gov
Veterans Affairs Medical Center, 1030 Jefferson Ave. Memphis, Tennessee 38104, 901-573-8990
Mountain Home VA Medical Center, P.O. box 4000, Mountain Home, Tennessee 37608, 423-926-1171, Mike.Kromoff@med.va.gov
Texas
Brook Army Medical Center, 3851 Roger Brook Dr. (3600 fsh) San Antonio 78234, 501-257-1000 Bamc.webmaster@amedd.army.mil
Audie L. Murphy Memorial Veterans Hospital, 7400 Merton Minter Blvd. San Antonio Texas 78229, 210-617-5300, Linda.Ziontz@med.va.gov
Sam Rayburn Memorial VA Med Ctr. 1201 E 9th St. Bonham Texas 75418, 903-583-6561 gilbert.martinez@med.va.gov
Olin B Teague VAMC 1901 Veterans Memorial Dr. Temple Texas 76504, 245-534-4352 henry.mosely@med.va.gov
Waco VAMC 480 Memorial Dr Waco Texas 76711 254-752-6581 henry.mosely@med.va.gov Mail to Olin Teague
Michael E. DeBakey VAMC 2002 Holcombe Blvd. Houston, Texas 77030-4298, 1-800-553-2278
Kerrville VAMC 3600 Memorial Dr. Kerrville, Texas 78028, 830-896-2020
Utah
Vermont
White River Junction VA Medical Center, 215 N. Main St. White River Junction, Vermont 05009, 802-295-9363
Virginia
McGuire VA Medical Center, 1201 Broad Rock Blvd, Richmond, Virginia 23249, 804-675-5135 Janet.langehorne@med.va.gov
Salem VA Medical Center, 1970 Roanoke Blvd. Salem, Virginia 24153, 540-983-1096
Hampton VAMC 100 Emancipation Dr. Hampton, VA 23667, 757-722-9961 judith.curtis@med.va.gov
Washington State
Jonathan M. Wainwright Memorial VA Medical Center, 77 Wainwright Dr, Walla Walla Washington 99362, 509-525-5200
Spokan VAMC 4815 N. Assembly St. Spokan Wash. 99205-6197 Carla.lippert@med.va.gov
Washington D.C.
Walter Reed Medical Center, 6900 Georgia Ave. NW, Washington DC 20307-5001
West Virginia
Beckley VA Medical Center, 200 Veterans Drive, Beckley, W. Virginia 25801, 304-255-2121 cheryl.yost@med.va.gov
Louis A. Johnson VA Medical Center, 1 Medical Center Dr. Clarksburg, W. Virginia 26301, 304-623-3461, Cheryl.Welch@med.va.gov
Huntington VA Medical Center. 1540 Spring Valley Dr. Huntington, W Virginia 25704, 304-429-6741
Martinsburg VA Medical Center, 510 Butler Ave.Martinsburg W. Virginia 25401, 304-263-0811
Wisconsin
William S. Middleton VAMC 2500 Overlook Ave. Madison, Wisconsin 53705, 608-256-1901 scott.krueger@med.va.gov
Tomah VAMC 500 E. Veterans St. Tomah, Wisconsin 54660, 608-372-3971
Clement J. Zablocki VAMC 5000 W. National Ave. Milwaukee Wis 53295-0001, 414-384-2000 denise.jashinsky@med.va.gov
Wyoming
Cheyenne VAMC 2360 E. Pershing Dr. Cheyenne, Wyoming 82001, 307-778-7550
Sheridan VAMC 1898 Fort Rd. Sheridan Wyoming 82801, 307-672-3473