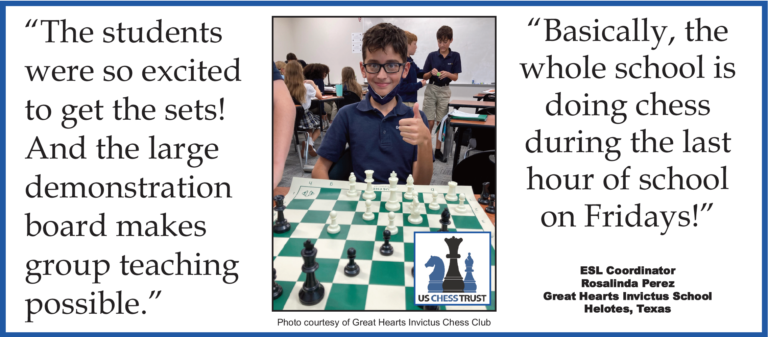 Schools and Chess Clubs
Chess-for-Youth Programs: Schools need chess equipment to start a chess program. We have met our goal! Thank you for your support.
The U.S. Chess Trusts Chess-For-Youth program operates under a very simple premise chess makes kids smarter and should be an opportunity available to all students across the country.
Playing chess has proven to help students enhance their creativity, improve their power of concentration , develop and expand critical thinking skills, boost memory and retention, and achieve superior academic performance.
Additionally , chess has been shown to augment problem-solving capabilities, provide cultural enrichment, advance intellectual maturity, and enhance self-esteem.
We know that these are qualities that school administrators, parents, and teachers desire for their students. We want to help.
Most schools do not have the budget to start a chess program, you can help change that.
List of schools we have helped in the last 12 months.
Bret Harte Chess Club – Modesto CA
New Vista Middle School – Lancaster CA
Riley/New Dawn School – San Diego CA
A.I. DuPont Middle School Student Ambassadors – Wilmington DE
Chess Assasins – Dover DE
Lighthouse Christian School – Dagsboro DE
St. Luke's Episcopal Church – Sunrise FL
Chapel Hill Elementary School – Decatur GA
Park Creek Elementary School – Dalton GA
Harlan Elementary School – Mount Pleasant IA
Wilson Elementary – Caldwell ID
Connections for the Homeless/United Chess Com – Evanston IL
Michigan City High School – Michigan City IN
St. Luke's Episcopal Church – Georgetown KY
St. Luke's Episcopal Church – Baton Rouge LA
Beechwood Superintendent's Academy – Baton Rouge LA
St. Luke's Episcopal Church – Brockton MA
Athol Public Library – Athol MA
Oakham Center School – Oakham MA
Post Oak Academy – Lansing MI
Marcus Garvey Academy – Detroit Ml
St. Luke's Episcopal Church – Rolling Fork MS
Helena Flats SD#15 – Kalispell MT
St. Luke's Episcopal Church – Sanford NC
St. Luke's Episcopal Church – Bogota NJ
East Hanover Middle School – E Hanover NJ
Academy Charter High School – Lake Como NJ
Roy Martin Middle School – Las Vegas NV
St. Luke's Episcopal Church – Wallkill NY
Meadow Hill GEMS – Newburgh NY
Lenape Elementary School – New Paltz NY
PTA Association – Brooklyn NY
Galion Intermediate School – Galion OH
Cristo Rey Columbus High School – Columbus OH
Lighthouse Christian School – Akron OH
Fairless HS Chess Club – Navarre OH
Pilot Butte Middle School – Bend OR
Calcutt Middle School Chess Club – Central Falls RI
St. Luke's Episcopal Church – Knoxville TN
St. Luke's Episcopal Church – Dallas TX
Miller's Point Elem School – San Antonio TX
Indian Ridge Middle School, Freddie Chavira – El Paso TX
Indian Ridge Middle School, Mr. Valles – El Paso TX
Indian Ridge Middle School, Mr. Diaz – El Paso TX
South Loop Elementary School – El Paso TX
Eastwood Knolls International School – El Paso TX
Celia Hags Elementary UIL Teams – Rockwell TX
John F Kennedy Middle School – Suffolk VA
Cedar Lane School – Vienna VA
Monona Grove HS – Monona WI
Martha Elem Chess Club – Barboursville WV

Ryan Academy High School
The U.S. Chess Trust provided chess equipment to Ryan Academy High School – a move that helped these new chess players find wisdom in chess play.
This is what their teacher, Lisa Suhay, had to say.
Each day at a small private school in Norfolk I teach four courses: 12th Grade British Literature; 9th grade composition; journalism and creative writing. The breakthrough tool, however, was the game of chess.

I went into the classroom with three boards, a set of descriptions of each piece as a character (knight, king, queen, bishop, pawn/soldier, castle/rook) and a very crazy teaching plan.

Students in all my classes would learn to play. No excuses.

Results were immediate and dramatic. My discipline problems pretty much evaporated. Students with ADD, ADHD, dyslexia were transformed into chess-a-holics. Those who previously were labeled by themselves and others as least likely to succeed were suddenly winners.

Since we had nearly 40 players we formed the school's first chess club. I applied to the U.S. Chess Trust in Walkill, NY and the Virginia Scholastic Chess Association in Richmond for aid in the form of more chess boards.  The U.S. Chess Trust agreed to supply boards so we can keep all the students in play. The U.S. Chess Trust also featured our school on its national website.

Then I set them all to the task of writing Chessays (chess essays): "How is chess like life?"  Those essays are piled beside me as I write and from them shines a light so bright it brings tears to my eyes.

"I am a pawn in the board of life. My power is limited. A lot of times people see me as the weakest piece, but what they don't know is someday I will be the strongest. Pieces, known as my family and friends, fall around me but the only thing I can do is move forward," wrote one 16-year-old. "Like a Raisin in the sun, my dream was deferred. My King had fallen. It felt like the game was over…"

An 18-year-old girl wrote, "Life is not an easy game to play…There is not one smile that is permanent. Love comes and goes. Heartache is a deleterious emotion that can make our ways of thinking very destructive. This is our battle."  It's chess, but they're not just playin' anymore.