2021- 2022
Dear Friends,
You reshape lives with your contributions to the US Chess Trust. We're grateful for your support. Your donation this year is again crucial.
You know the benefits of chess: Children who are taught the game do better in school and better in life. Chess helps develop valuable reading, research, decision-making and social skills. Chess improves students' ability to organize their thoughts and to concentrate.
Your donation provides chess sets and U.S. Chess memberships to at-risk kids
We're redoubling our efforts to provide free tournament chess sets to at-risk kids while working within CDC guidelines. We include free demonstration boards to aid instructional programs. In addition, we provide free U.S. Chess Memberships to hundreds of these children so that they can continue to develop their cognitive and social skills.
Veterans and older Americans benefit too
Your donation will again help us to bring the same benefits to military veterans and older Americans. Research, as well as actual experience, suggests that chess benefits the mental acuity of people of all ages.
National State Invitationals recognize and encourage young players
The US Chess Trust is a principal sponsor of the GM Arnold Denker Tournament of High School Champions, the Dewain Barber Tournament of Junior High Champions, and the Ruth Haring Tournament of Girl Champions. To date, the Denker Championship alone has helped develop 14 American grandmasters. But even more importantly, these events have given encouragement and recognition to thousands of our young competitors.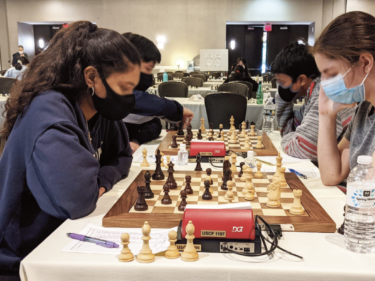 Scholar Chessplayer Awards recognize excellence and public service 
Another US Chess Trust program provides scholarships to secondary school students selected by a special committee. Awards are based on outstanding achievements in both academics and chess, as well as at least a year of chess related community service. Again this year, with the help of the National Scholastic Chess Foundation, each scholarship has been doubled from its traditional amount, recognizing the special challenges of COVID years. The 2021 Scholar Chessplayers are NM Destynn Keuchel and FM Christoper Shen of Ohio, WCM Iris Zhou of Missouri, and FM Wesley Wang and WIM Evely Zhu of New York.

Samford Fund develops the nation's best
We'll also keep supporting the nation's best. The US Chess Trust Samford Fellowship provides top developing U.S. chess players with vital support to give them a chance to reach their full potential. The goal of the Samford Fellowship, administered by the US Chess Trust, is to bring the World Chess Championship back to the USA by supporting development of the most promising U.S. players. Results of the 2021 U.S. Championships once again confirm the Samford choices. GM Wesley So, a 2016 Samford Fellow, won his third U.S. Championship.WGM and IM Carissa Yip, a Samford Fellow since 2020, won the U.S. Women's Championship in spectacular style. In all, nine current or former Samford Fellows competed in the invitational championships.

Chess and Education Conference shares critical research
The US Chess Trust also sponsors critical research-sharing. To kick off the 2021 U.S. Open Championship in Cherry Hill, New Jersey, the US Chess Trust sponsored the 3rd International Koltanowski Chess and Education Conference, named after the blindfold champion and Dean of American Chess GM George Koltanowski. The conference brought together world-renowned experts from many related fields—teachers, academics and scientific researchers— to share what they've learned and shed light on advancements in the field of chess and education. The US Chess Trust recognizes that it's important to keep this interactive dialog going.
You support more great programs 
The US Chess Trust also supports the annual U.S. Blind Chess Championship and helps make possible both the annual Pan-American Intercollegiate Championships and the U.S. Final Four of College Chess. The US Trust is a partner in the World Chess Hall of Fame in St. Louis. To date, the Hall has welcomed more than 130,000 visitors. As always, the St. Louis World Chess Hall of Fame staff is winning people over to chess.
These are some of our programs your gift can support. We know there are lots of other uses for your money. Our causes provide a high-value return. Your donation is an investment in people. You can feel very good about making a donation to the US Chess Trust.
The US Chess Trust doesn't have an office building or even an office. We pay no fulltime staff and no professional fund-raisers. Members of our board of directors donate significantly and take no compensation.
Your donations are tax-deductible, and you can earmark a gift for your favorite programs. We welcome donations to honor the memory of friends and loved ones. You'll get a letter of thanks that will also serve as tax documentation, and you'll see your support recognized on our website.
E. Steven Doyle
President
Myron Lieberman
Secretary
Leroy Dubeck
Treasurer
Al Lawrence
Managing Director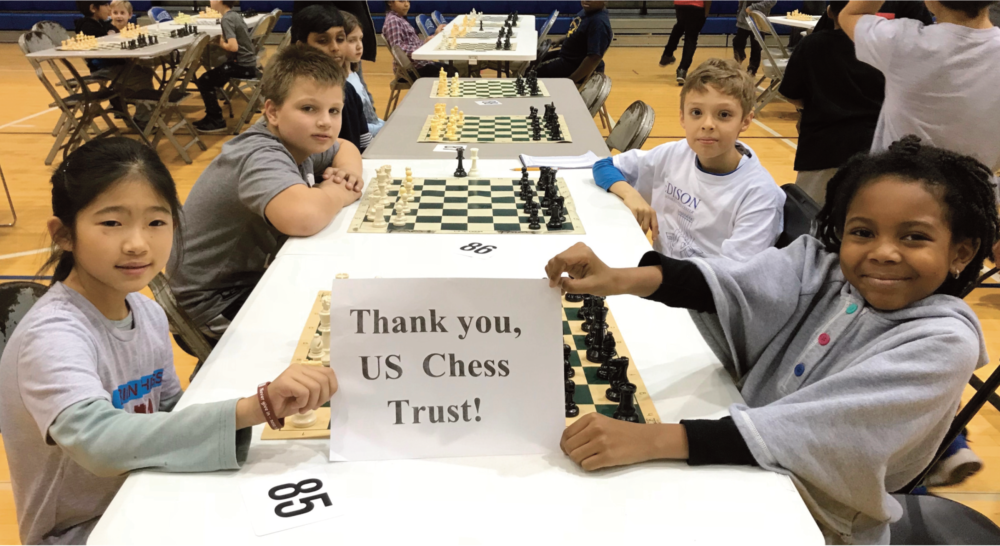 Formal Disclosure of Information about the U.S. Chess Trust
Financial and other information about US Chess Trust's purpose, programs and activities can be obtained by contacting its Managing Director at 289 Borden Road, Wallkill, NY 12589; Phone: 914-805-1115; website: www.uschesstrust.org, or for residents of the following states, as stated below. Florida: CH No. 15335. A COPY OF THE OFFICIAL REGISTRATION AND FINANCIAL INFORMATION MAY BE OBTAINED FROM THE DIVISION OF CONSUMER SERVICES BY CALLING TOLL-FREE, WITHIN THE STATE, 1-800-HELP-FLA OR AT www.FloridaConsumerHelp.com. REGISTRATION DOES NOT IMPLY ENDORSEMENT, APPROVAL, OR RECOMMENDATION BY THE STATE. Maryland: For the cost of postage and copying, from the Secretary of State. Michigan: MICS No. 60881. New Jersey: INFORMATION FILED WITH THE ATTORNEY GENERAL CONCERNING THIS CHARITABLE SOLICITATION AND THE PERCENTAGE OF CONTRIBUTIONS RECEIVED BY THE CHARITY DURING THE LAST REPORTING PERIOD THAT WERE DEDICATED TO THE CHARITABLE PURPOSE MAY BE OBTAINED FROM THE ATTORNEY GENERAL OF THE STATE OF NEW JERSEY BY CALLING (973) 504-6215 AND IS AVAILABLE ON THE INTERNET AT http://www.state.nj.us/lps/ca/charfrm.htm. New York: A copy of our most recently filed financial report is available from the Charities Registry on the New York State Attorney General's website at www.charitiesnys.com or, upon request, by contacting the New York State Attorney General, Charities Bureau, 28 Liberty Street, New York, NY 10005, or us at 289 Borden Road, Wallkill, NY 12589. You may obtain information on charitable organizations from the New York State Office of the Attorney General at www.charitiesnys.com or (212) 416-8401. Virginia: From the State Office of Consumer Affairs in the Department of Agriculture and Consumer Services, P.O. Box 1163, Richmond, VA 23218. Wisconsin: A financial statement of the charitable organization disclosing assets, liabilities, fund balances, revenue and expenses for the preceding fiscal year will be provided to any person upon request. CONTRIBUTIONS ARE DEDUCTIBLE FOR FEDERAL INCOME TAX PURPOSES IN ACCORDANCE WITH APPLICABLE LAW. REGISTRATION IN A STATE DOES NOT IMPLY ENDORSEMENT, APPROVAL, OR RECOMMENDATION OF US CHESS TRUST BY THE STATE.