Alexandra Kosteniuk Interview by WIM Beatriz Marinello

Grandmaster Alexandra Kosteniuk: Woman World Champion, Mother and Wife…Aspiring Fashion Model and a Role Model for our chess community.
Women's World Champion Alexandra Kosteniuk lives part of the year in Miami, USA and is planning to help promote chess in the USA in a positive way. I would like to thank her for allowing me to interview her.
We would also like to take this opportunity to announce a U.S. Chess Trust Fundraising Event in New York City with Alexandra Kosteniuk!
Alexandra has been very generous to offer to donate her time to the U.S. Chess Trust by giving a 20-Board Simultaneous Exhibition.
This event will be held in NYC on March 21, 2009 at the British International School of New York.  We would like to thank the British International School of New York for allowing us to host the event in their school campus!  For more information about British International School of New York – please visit their website at www.BritishInternationalSchoolNY.org.

This Invitational Event will exclusively benefit the U.S. Chess Trust. Stay tuned for more details!
An Interview with Alexandra Kosteniuk by WIM Beatriz Marinello
BEATRIZ: Hello Alexandra, it is a pleasure to have the opportunity to do this interview with you!  You were crowned the 12th Women's World Champion in chess history a little over four months ago. How does it feel to achieve such an accomplishment? This is chess history in the making, one that comes with a lot of responsibility. How has this affected your outlook? Do you feel a need to give back to the community and live up to a certain legacy, so to speak?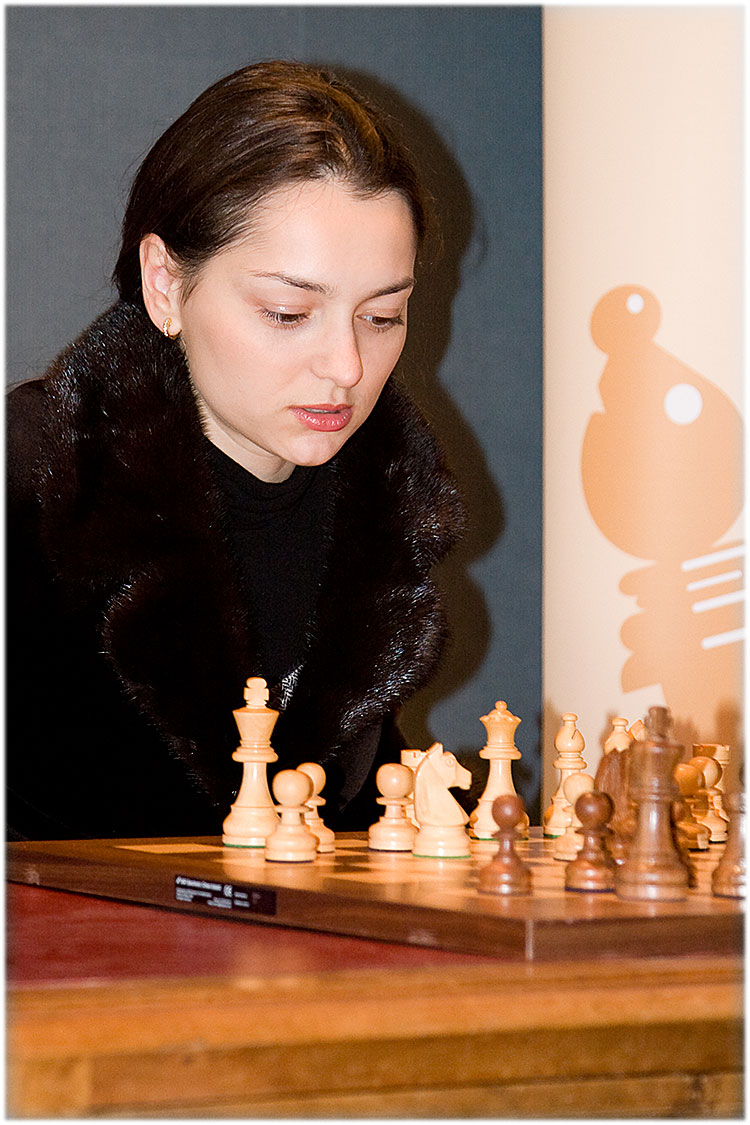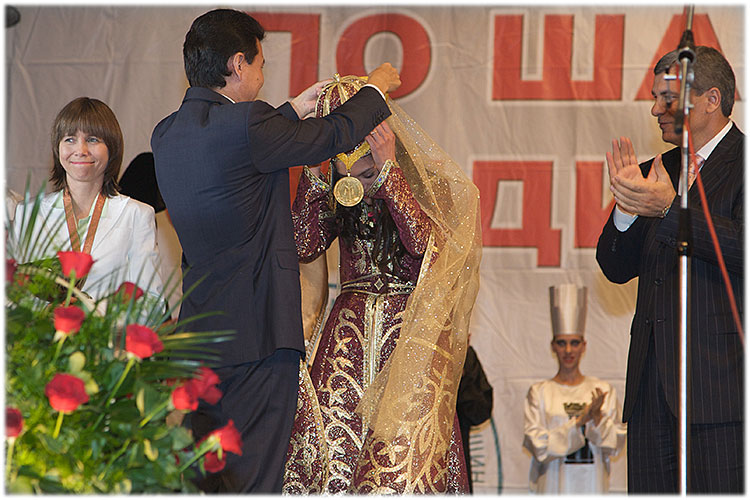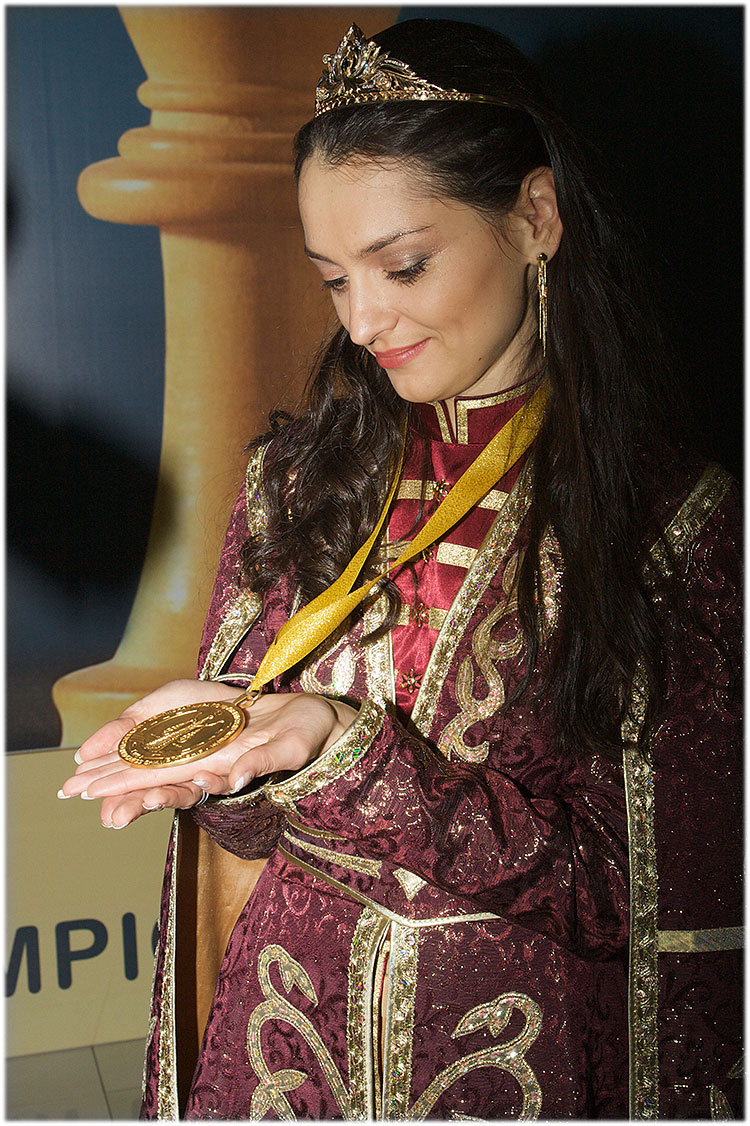 ALEXANDRA: Victory in the World Championship made me very happy and I felt so proud. It was definitely the happiest moment in my chess career.  But, at the same time I had a hard time realizing that I had become the World Champion and entered all chess history books. But then little by little it sank in and I understood that life needs to go on. Even though it was the goal of my life, I needed to find more goals and more motivation for the game I love so much. I now feel very strongly that I have to do much more to promote and popularize chess in the world and attract both the media and as many kids as possible to our wonderful game.
BEATRIZ: Considering that you already achieved the World Championship title, how do you re-focus your goals as a chess player and in which direction do you see yourself going?  Have you had an opportunity to reflect and determine which course to take next?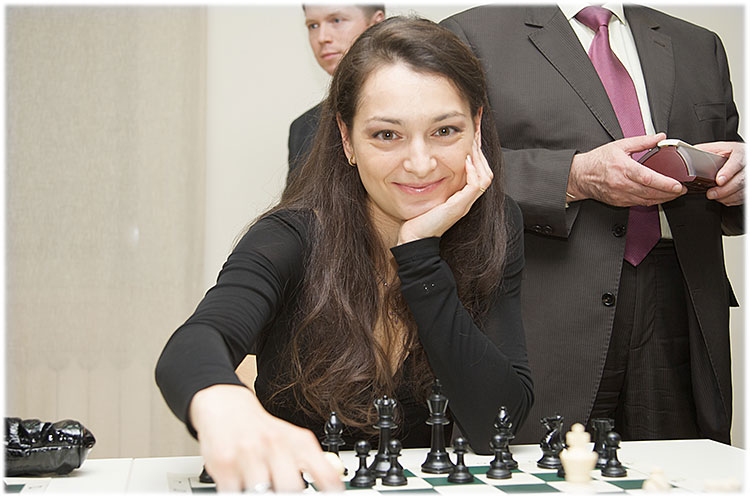 ALEXANDRA: After winning the World Championship I had a very tough schedule, I was playing non-stop almost all of the second part of 2008 and only now, after settling down in Miami, I have some time to rest and to think about my plans and goals for the future.  I still enjoy playing in tournaments and, especially, studying chess with my coaches, since there is no limit to progress in chess and I love the constant search of perfection that chess allows. I'll also definitely try to do a lot of promotional events for chess, such as giving lectures, simuls, interviews and also promote chess as an educator.  I also want to spend more time with my family and especially with my daughter, since I was away from her for quite a long time while I was preparing and playing in the World Championship and being so far away from her, I missed her very much.
BEATRIZ: What are your thoughts about the future of women in chess?  How do you feel we could attract more girls to the game?
ALEXANDRA: More and more girls are starting to play chess. I think in the last decade we've seen a constant increase in the number of girls playing chess. That's why it's important to speak not only about men Grandmasters and Male Champions but also about women who play chess successfully. Girls who are just starting to play chess have to have female role models they can relate to in order to see that they might also one day become a champion.
BEATRIZ: As you gain a broader audience and fan club, do you feel that being a fashion model, in a sense breaks the misconception that beauty and brains aren't always the norm?  Do you think this message has a positive impact in promoting chess to a much broader audience?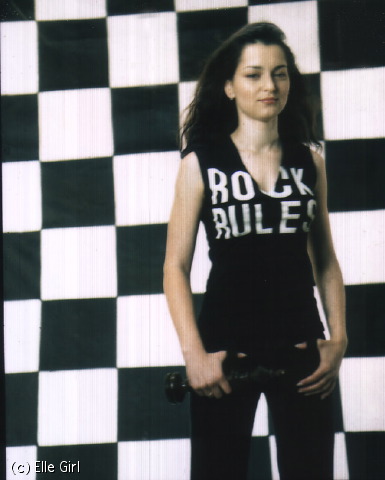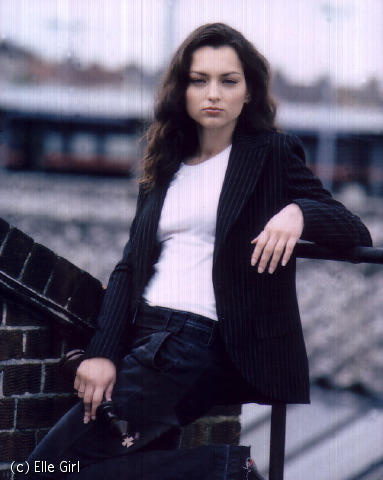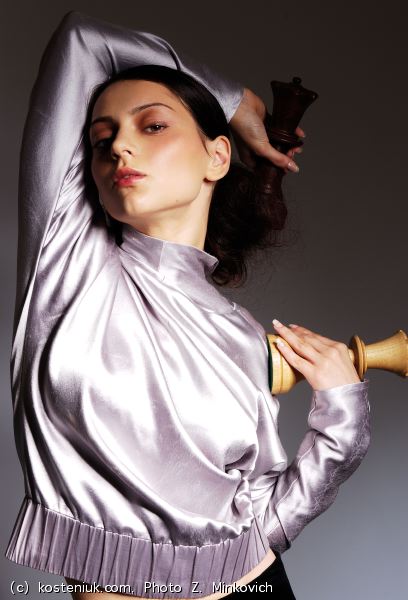 ALEXANDRA: Chess is a very ancient game and I believe it deserves much more attention than it has right now.  Unfortunately, the modern world is more interested in nice-looking faces than in intellectual values. Role-models of today's kids are mostly TV and movie stars, they follow their lives and try to look like them. Chess has now, unfairly in my opinion, a rather dull image that makes it hard to attract media and spectators and therefore sponsors. That's why I feel I have to try to find ways to show the world that chess is a very cool game, it's very useful for kids and what's more if girls will play chess they will still be normal girls and at the same time they will have better chances to succeed in life.
BEATRIZ: You started playing chess at the age of 5.  Tell us about your experience as a young chess player. Are there any specific events that led up to your passion for chess?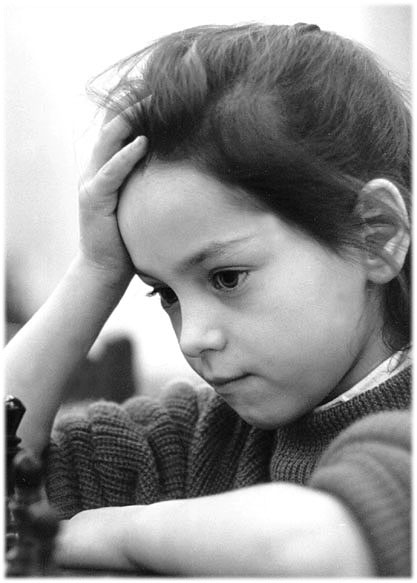 ALEXANDRA: My father was a hero to me. I valued his words very much and when he said that he would teach me how to play chess I was very excited and happy to start studying chess with him.  After a while my father's passion passed on to me and from that moment I started to study chess even more assiduously and with true passion.
BEATRIZ: Your father was an army officer who gave up his career to support you as a young chess player. Now, that you are a mother yourself what are your thoughts about parenting young, gifted and talented children?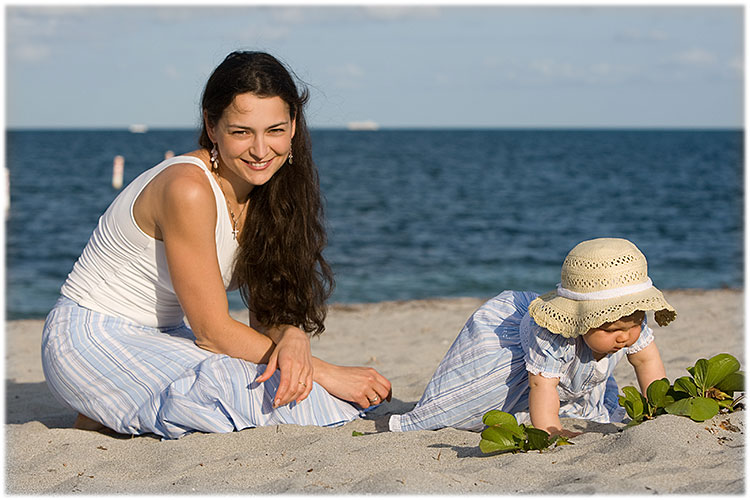 ALEXANDRA: Actually, now I understand what a tremendous job my parents have done in order to educate their two daugthers.  Now, being a mom, of course, I think all the time about my daughter's education and I hope that she will be a happy child. I believe that every child is talented and the most important thing is to help these talents to develop.  Childhood years, in my opinion, are the most important ones in life so I'll try to do my best in educating my daughter. It's quite a difficult task and I look forward to giving it all my heart.
BEATRIZ: How has motherhood affected you're training? Are you still able to maintain the five hours per day training?
ALEXANDRA: I was very fortunate when my husband and my mom agreed to support me fully when I told them I wanted to try to prepare and play in the Women's World Championship, last year in Nalchik, when my baby was not even 1 year old.  Having a baby changes everything and it was very difficult for me to get back into shape and to start again after a break of close to a year. Now I'm very happy that all my efforts paid off.  I still train now, but on a different schedule.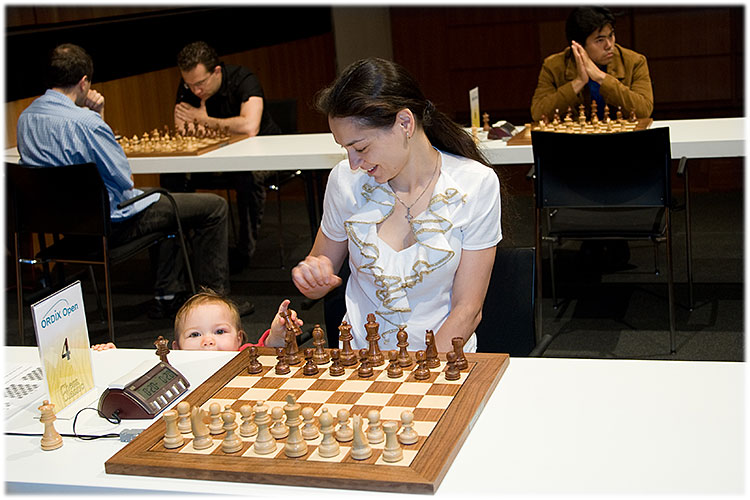 BEATRIZ: What do you feel are the positives and negatives as you work your life around a passion for chess, family, and a sometimes hectic schedule.  Has traveling been more difficult considering the changes in your life? Is your family a part of your travel schedule?
ALEXANDRA: When you have a baby traveling is much harder. So now we try to travel not as often as we used to.  I'm not so flexible as I was before and am planning all my future tournaments and events more carefully in order not to be far from my baby for too long. I prefer to take my baby with me to regular tournaments or to most events but of course she stays with my husband or my mom if I go to very important tournaments such the World Championship.
BEATRIZ: GM Xu Yuhua of China became the Women's World Champion while she was four months pregnant, and you became a Women's World Champion with a young child.  It has become increasingly apparent that women can have it all – including a successful career in chess.  You are a great example of this. Do you feel that biologically speaking , given that chess is a very competitive sport, men have an advantage over women?
ALEXANDRA: Technically, I believe men and women's minds are equal. It's men's physical additional strength that gives them an edge in long games.  In speed games the difference is less, as I have shown, by beating many male Grandmasters at Blitz.  Also, chess requires a lot of studying, and men have an easier time to devote all their time to studying chess, without thinking of anything else, while women have many more responsibilities, such as taking care of the home and founding a family.  I read recently a study, in which it was argued that the relatively lower results by women were due principally to the many fewer girls who start to play chess. If we had an equal number of boys and girls who started to play chess and continued til' their 20's, the difference in levels at the top would be almost insignificant.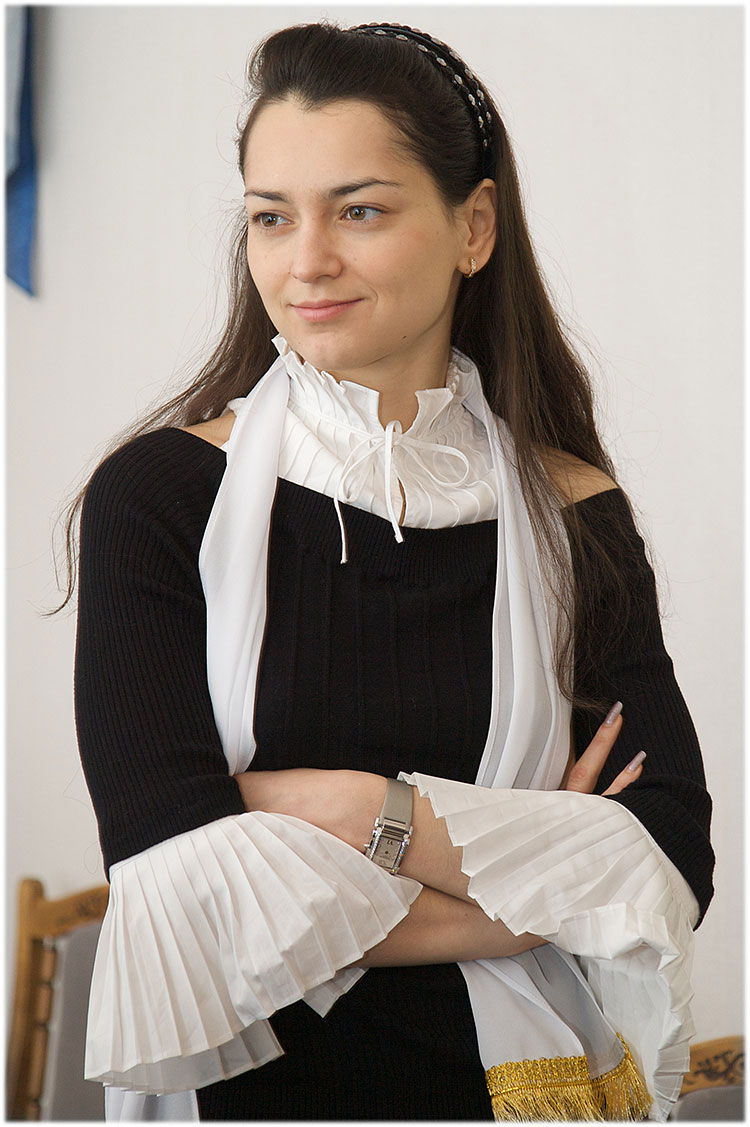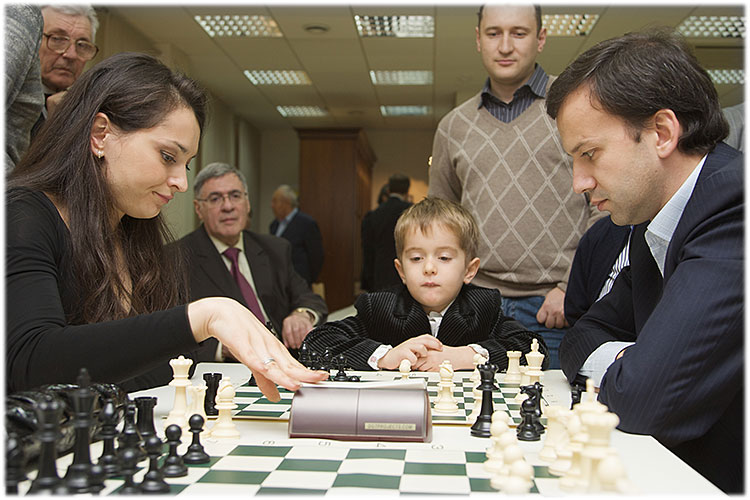 BEATRIZ: What are your goals for the future?  Are your planning to spend more time in the United States?  Any plans to write more books?
ALEXANDRA: My first goal, is to give back to chess all that I can since it is chess that has given me all that I have. I will promote chess all over the world, and I will do so both on the web with my upcoming online academy, with my DVD's, and personally in my chess academy.  I am on the way to becoming a permanent U.S. Resident and plan to make Miami my home. I feel Florida is the best place for my daughter to grow up and for me to have my base.
BEATRIZ: In Russia chess is being taught as part of the school curriculum.  I personally believe that the future of chess lies in integrating chess as part of our culture, the best way to approach this is through chess in the schools. What are your comments and thoughts about chess in the schools?  Do you plan on teaching your own children at an early age?
ALEXANDRA: You are absolutely right, chess in schools is the best way to go.  The educational value of chess is totally clear, it helps kids succeed in life.  I will definitely teach my daughter to play chess, she's not even two yet, and she knows what pawns are, as well as knights, chess pieces are pretty much her favorite toys, she sees her mom playing with them all day, so it must be really fun!  I'm looking forward to when she's 3 or 4 so I can start showing her the beauty of our wonderful game.
BEATRIZ: That is wonderful. It is great to see such a well-rounded, intelligent young woman with such a postive outlook, such a passion for chess and a desire to promote and do positive things with the game we all love!
Well, Alexandra, let's wrap this interview up. It has been a great pleasure talking with you.  Thank you for taking the time. We look forward to seeing much more of you and wish you and your family the very best.
For more information about World Champion Alexandra Kosteniuk – Please visit Alexandra's website.
Don't forget to check back for more information on the U.S. Chess Trust's Fundraising Event with Alexandra Kosteniuk!
Want to read the interview in spanish?  CLICK HERE