Yang Dai, 2012 Scholar-Chessplayer Award Recipient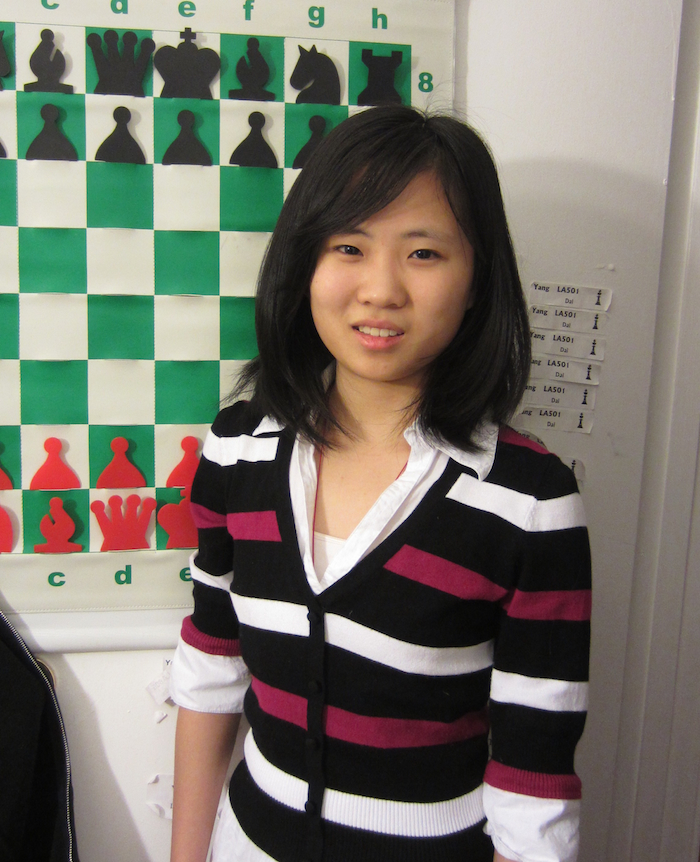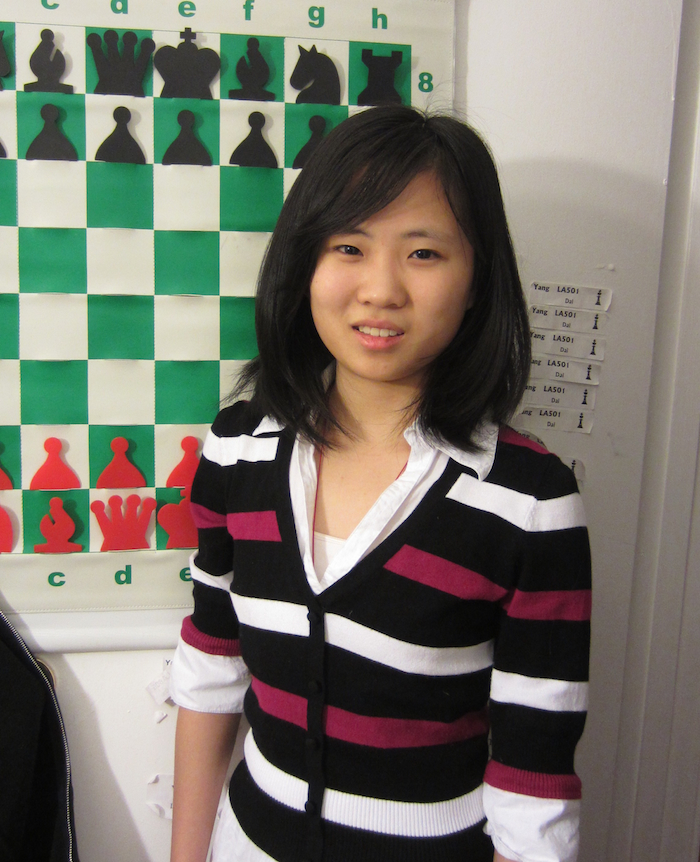 2012 Scholar-Chessplayer Award Recipient
"Can you talk?" Yes, maybe, not really. I responded with a nod.
My elementary school classmates knew me as "that girl who doesn't talk," while teachers labeled me as "the kid with selective mutism." Class presentations were anxiety-filled ordeals that perhaps could only compare to the awkwardness of social situations. I was the observer in the background who eventually became the background.
When I was nine, I started playing chess, a game that opened up a new world of epic struggles on a checkerboard. Losing tested my confidence, which hardened along with the losses I absorbed. I became known as "that girl who plays chess," who was quiet rather than silent.
I gradually outgrew my childhood habit of communication in three-word phases, and by high school, I could pride myself in giving audible presentations and could handle conversations with reasonable certainty. This was when I was offered a position to teach a chess class, and for some reason, I agreed. To no one's surprise but mine, the first class ended in little less than chaos. Several lessons were learned: there's clear inverse relationship between the loudness of kids' voices and their attention spans, and it's about ten times harder to teach chess than it is to play it.
Despite the rocky start, I persevered. The classes were initially a fight between being jerked out of my comfort zone and teaching a game I love. Eventually teaching won out as I meticulously prepared lessons, using techniques ranging from comics to instructive games to "solitaire" chess. I taught my kids that chess is a fight to be won by the strong-willed rather than the big-brained.
After three years of sharing chess with my community and teaching over a two hundred kids, I can finally flaunt my ability to shout over screaming children. I thank those kids for giving me a chance to teach a game that has transformed me from an awkward, quiet girl to a confident, capable leader, stripping away a coat of silence that I'd been wearing for too long.
Chess Achievements
2005-2011 Qualified for World Youth Chess Championship, Qualified as Official Rep for World Youth Chess Championship 2007, 2009-2011
2010 North American Youth Chess Championship – Girls U18 Champion
2009 Susan Polgar Invitational Champion
2006-2008 Virginia State Scholastic Championship K-8 Co-Champion
2007 World Youth Chess Championship Girls U14 14th Place (Tie for 7th)
2006 National Elementary School Chess Championship 3rd Place
2009 Member of my high school's 4-person team that placed 2nd at the National High School Championship
Chess Service
Founder and main instructor of the Vienna Stars Chess Club – a chess club at my local library. Founded in Sept. 2009, 90 total participants (mostly children ages 5-12). Current session has over 30 kids and has included two other teachers.
Chess Instructor at the Hope Chinese School (Sept. 2009 – Dec. 2011). Taught groups of 20 kids. Designed curriculum, taught lessons, organized tournaments.
Chess Instructor at the Little Einstein Explorers Summer Camp (2010, 2011). Taught groups of 20-30 kids of all levels. Organized end of camp tournament.
Chess Instructor at Silver Knights Chess Company (July 2011, Jan. 2012). Helped with tournament training classes and taught all girls class to promote chess among girls in the community.
Leadership
Founder and main instructor of local chess club to promote chess among kids.
Chess group leader at the Hope Chinese School (organized curriculum for chess classes).
Vice President of the Little Sunshine Project – a school organization that has established pen-pal relationships with orphans in Vietnam, China, and Somalia.