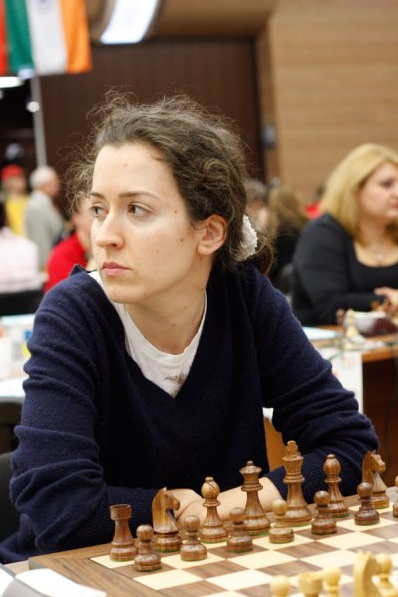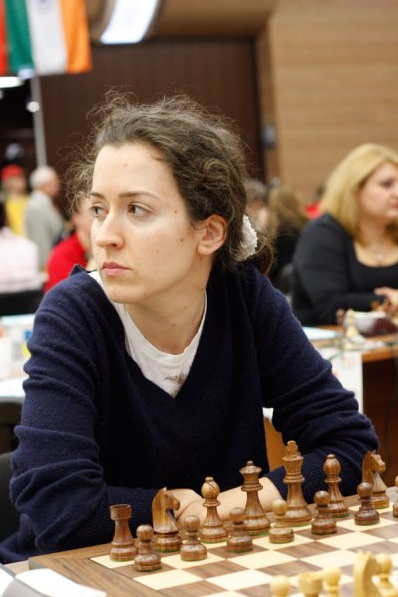 The Women's World Chess Championship is taking place in Khanty-Mansiysk from November 9 through December 3, 2012. Three USA players are participating in the WWCC: US Women's Champion, Irina Krush, Anna Zatonskih and Tatev Abrahamyan. Check out the results so far!
Replay Game / Round 2 / Game 1 / Cramling, Pia (White) vs Krush, Irina (Black)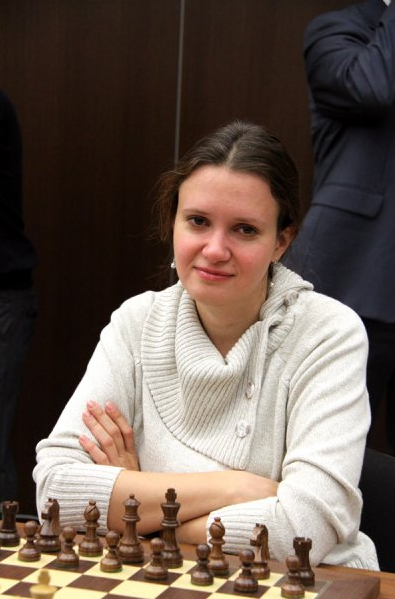 Replay Game / Round 2 / Game 1 / Zatonskih, Anna (White) vs Ju, Wenjun (Black)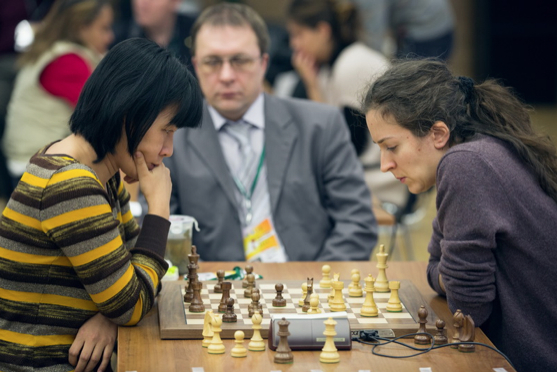 "Irina Krush was close to take an upper hand on her opponent from Singapore Li Ruofan already in 10-minutes games, but lost control in the second game. The fate of these players was decided in blitz, the American was stronger." – Official Website http://chess2012.ugrasport.com/
Replay Game / Round 1 / Tiebreaks / Krush, Irina (White) vs Li, Ruofan (Black)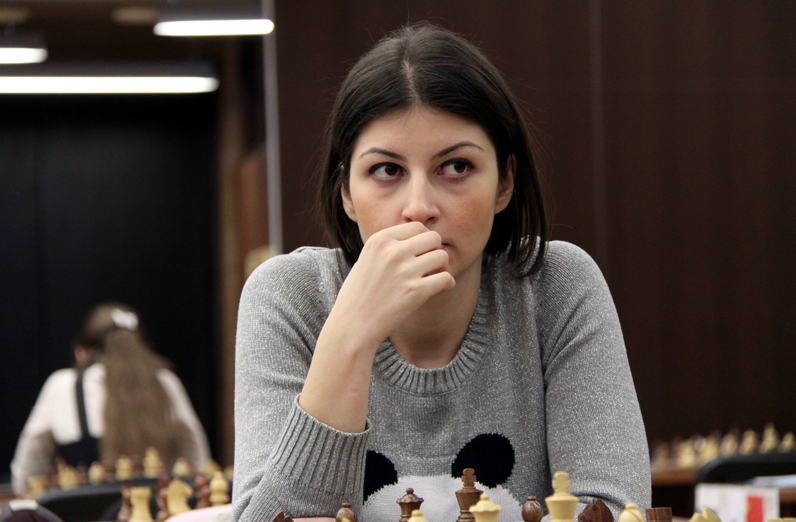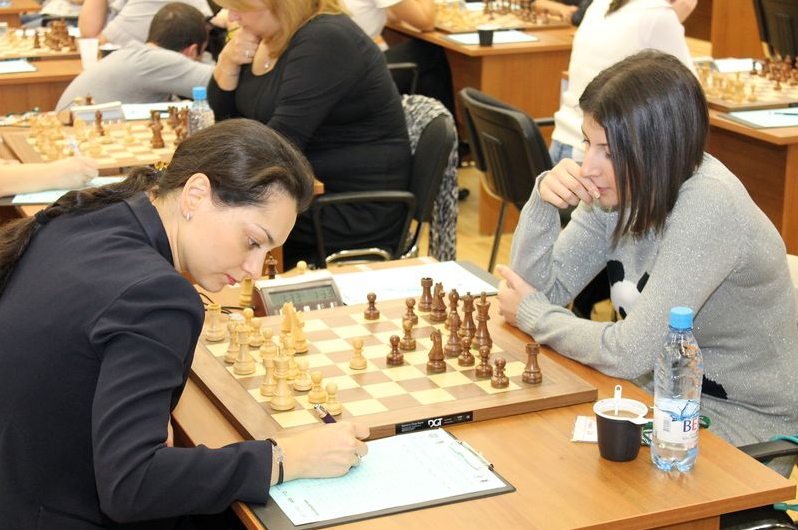 In Round 1, Game 1, WGM Tatev Abrahamyan faced former Women's World Champion, GM Alexandra Kosteniuk and the game ended in a draw. In Round 1, Game 2, Tatev lost her game against Alexandra and was eliminated. Krush and Zatonskih move on to Round 2.
Check back for more updates!
Replay Game / Round 1 / Game 1 / Abrahamyan, Tatev (White) vs Kosteniuk, Alexandra (Black)
Participants
From World Women's Championships 2010-2011:
1. Hou, Yifan (CHN) – World Champion
2. Koneru, Humpy (IND) – World Champion Finalist 2011
3.  Zhao Xue (CHN) – World Championship Semi finals 2010
World Girl Junior Champions 2010-2011:
4. Muzychuk, Anna (SLO)
5. Cori T Deysi (PER)
Rating List average 7/2011 & 1/2012:
6. Gunina, Valentina (RUS)
7. Galliamova, Alisa (RUS)
8. Zhu, Chen (QAT)
9. Kosteniuk, Alexandra (RUS)
10. Skripchenko, Almira (FRA)
11. Ushenina, Anna (UKR)
28 players from European Women's Championships 2010 & 2011
12. Cramling, Pia (SWE) (2010)
13. Cmilyte, Viktorija (LTU)
14. Socko Monika (POL)
15. Sebag, Marie (FRA)
16. Kosintseva Tatiana (RUS)
17. Zhukova Natalia (UKR)
18. Dembo Elena (GRE)
19. Stefanova Antoaneta (BUL)
20. Kosintseva Nadezhda (RUS)
21. Muzychuk Mariya (UKR)
22. Rajlich Iweta (POL)
23. Ziaziulkina Nastassia (BLR)
24. Kovalevskaya Ekaterina (RUS)
25. Khurtsidze Nino (GEO)
26. Danielian, Elina (ARM) (2011)
27. Matveeva, Svetlana (RUS)
28. Khotenashvili, Bela (GEO)
29. Lahno, Kateryna (UKR)
30. Javakhishvili, Lela (GEO)
31. Arakhamia-Grant, Ketevan (SCO)
32. Foisor, Cristina-Adela (ROU)
33. Bodnaruk Anastasia (RUS)
34. Pogonina Natalija (RUS)
35. Ovod Evgenija (RUS)
36. Romanko Marina (RUS)
37. Hoang Thanh Trang (HUN)
38. Mkrtchian Lilit (ARM)
39. Khukhashvili Sopiko (GEO)
8 players from Americas
40. Arribas Robaina, Maritza (CUB) (Continental)
41. Zatonskih, Anna (USA) (Zonal 2.1)
42. Abrahamyan, Tatev (USA) (Zonal 2.1)
43. Krush, Irina (USA) (Zonal 2.1)
44. Khoudgarian, Natalia (CAN) (Zonal 2.2)
45. Castrillon Gomez, Melissa (COL) (Zonal 2.3)
46. Aliaga Fernandez, Ingrid (PER) (Zonal 2.4)
47. Lujan, Carolina (ARG) (Zonal 2.5)
12 players from Asia/Oceania
48. Pourkashiyan, Atousa (IRI) (Continental 2010)
49. Harika, Dronavalli (IND) (Continental 2011)
50. Ghader Pour, Shayesteh (IRI) (Zonal 3.1)
51. Ranasinghe, S D (SRI) (Zonal 3.2)
52. Li, Ruofan (SIN) (Zonal 3.3)
53. Davletbayeva, Madina (KAZ) (Zonal 3.4)
54. Ju Wenjun (CHN) (Zonal 3.5)
55. Shen Yang (CHN) (Zonal 3.5)
56. Huang Qian (CHN) (Zonal 3.5)
57. Gu Xiaobing (CHN) (Zonal 3.5)
58. Berezina, Irina (AUS) (Zonal 3.6)
59. Soumya, Swaminathan (IND) (Zonal 3.7)
3 players from African Women's Championship 2011
60. Mona, Khaled (EGY)
61. Mezioud, Amina (ALG)
62. Frick, Denise (RSA)
2 nominees of the FIDE President
63. Guo Qi (CHN)
64. Olga Girya (RUS)
TOTAL: 64 players
Date

Day

Time

Events

Amount of players

Place

09.11.2012

Fr

Arrival day

10.11.2012

Sa

12:00

19:00

20:00

21:00

AccreditationPlayers meetingOpening CeremonyReception

CТC «Ugra-Classic»

11.11.2012

Su

15:00

RoundI – game 1

64

 

 

 

 

 

 

 

 

«Ugra Chess Academy»

12.11.2012

Mo

15:00

RoundI – game 2

 

13.11.2012

Tu

15:00

Tiebreak

14.11.2012

We

15:00

RoundII– game 1

32

15.11.2012

Th

15:00

RoundII– game 2

 

16.11.2012

Fr

15:00

Tiebreak

17.11.2012

Sa

15:00

RoundIII– game 1

16

18.11.2012

Su

15:00

RoundIII– game 2

 

19.11.2012

Mo

15:00

Tiebreak

20.11.2012

Tu

15:00

RoundIV– game 1

8

21.11.2012

We

15:00

RoundIV– game 2

22.11.2012

Th

15:00

Tiebreak

23.11.2012

Fr

15:00

RoundV– game 1

4

24.11.2012

Sa

15:00

RoundV– game 2

25.11.2012

Su

15:00

Tiebreak

26.11.2012

Mo

Free Day

27.11.2012

Tu

15:00

Round VI – game 1(final match)

2

28.11.2012

We

15:00

Round VI – game 2 (final match)

29.11.2012

Th

15:00

Round VI– game 3 (final match)

30.11.2012

Fr

15:00

Round VI -game 4 (final match)

01.12.2012

Sa

15:00

Tiebreak

02.12.2012

Su

20:00

Closing Ceremony

CТC «Ugra-Classic»

03.12.2012

Mo

Departure