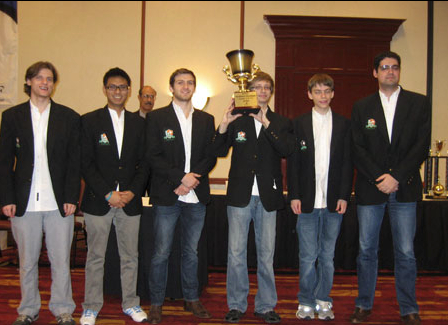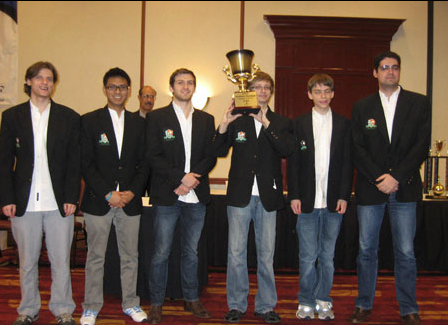 Top University chess players will battle it out at Princeton University.
December 27-30, 2012 (Princeton, New Jersey)
Frick Chemistry Laboratory, Princeton University, Princeton, NJ 08540, Directions to Princeton
Every year, the 'Pan Am' is held during the holiday season.  For these talented young chess players, playing competitive chess this time of year is just another part of their holiday traditions.
The U.S. Chess Trust is proud to support this event as well as many others.
Last year, the University of Texas at Dallas "UT Dallas" came in first with six points, UMBC came in second with 5 points, and Texas Tech and New York University tied for third with 4.5 points each. The top four finishers in this tournament qualified for the 2012 President's Cup, the "Final Four of College Chess," which was held in Herndon, VA earlier this year from March 30–April 1, 2012.
This year, top university chess teams battle it out again. Who will take the top prize?
Information
Eligibility: Please visit this page to see the complete College Eligibility Requirements. Located here is a mock eligibility letter.
Team Format:
4 Player Teams, up to 2 Alternates, Traditional 6 round Fix Roster Swiss Tournament. Open to College and University teams from North and South America including the Caribbean. Teams must supply letters from University stating that the players meet eligibility requirements.
Time Control:
Game/90 with a 30 second increment. Notation required throughout the games. Monroi Units may be provided and must be used.
Tournament is FIDE and USCF rated, but uses United States Chess Federation rules.
Entry Fee: Priority Registration by December 5, 2012 $200 per team; After December 5, 2012, $240 per team.
Registration: To register for the tournament either email chess@Princeton.edu or mail to the address below this information: Name of School, Name of Players, USCF ID Number of Players, Rating of Players, and Year of Players (e.g. Freshman, Sophomore, Grad Student, etc.). If sending more than 1 team, please indicate which team each players is on.
USCF Membership can be purchased at this site: http://www.uschess.org/component/option,com_wrapper/Itemid,323/
For additional information contact chess@princeton.edu
Coach/Captain must hand in proposed team roster changes one hour before the beginning of the round.
Round Times

Round
Round 1
Round 2
Round 3
Round 4
Round 5
Round 6
Award Ceremony
Start time
6 pm
10 am
5 pm
10 am
5 pm
9 am
3 pm
Date
12/27
12/28
12/28
12/29
12/29
12/30
12/30
Prizes

Place
Monetary
Trophy or Plaque
1st Team
$1500
Trophy
2nd Team
$1000
Trophy
3rd Team
$600
Trophy
4th Team
$400
Trophy
5th Team
$250
Trophy
Top International Team
$500*
Trophy
Division II Champ (Team rated 2000-2199)
$400
Trophy
Division III Champ (Team rated 1800-1999)
Trophy
Division IV Champ (Team Rated below 1800)
Trophy
Top Team Under 1600
Trophy
Top Board 1
$100
Plaque
Top Board 2
$100
Plaque
Top Board 3
$100
Plaque
Top Board 4
$100
Plaque
Top Alternate
Plaque 
*If 3 teams or more
Additional Prizes: Team upset prize per round – $100 per team
2011 Pan American – Replay the Games – Round 6
Games courtesy of Monroi.