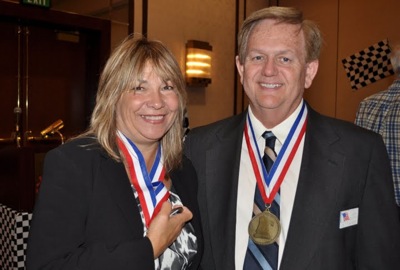 2016 Dewain Barber Tournament of K-8 ChampionsInformation & Rules
(Revised March 3, 2016)
General Information
The Dewain Barber Tournament of K–8 Champions invites the winners of the US Chess state affiliate championships to compete for the title of Barber K–8 Champion of Champions. In case of ties, co champions shall be recognized. This year's invitational tournament will be held from July 30 to August 2 during the 2016 U.S. Open. The location will be the Indianapolis Marriott East (Playing and Meeting Areas), 7202 East 21st Street, Indianapolis, IN 46219, 800.228.9290 or 317.352.1231. Guest Rooms available at: Indianapolis Conference Center (formerly La Quinta Inn & Suites), 7304 East 21st Street, Indianapolis, IN 46219, HR:  $84 Call (317) 359-1021 – Mention "US Chess" and Fairfield Inn & Suites Indianapolis East, 7110 East 21st Street, Indianapolis, IN 46219, HR: $99 Call (317) 322-0101 – Mention "US Chess". Free parking – all three hotels are next to each other (Marriott at the center).  In addition, Candlewood Suites, 7040 E. 21st Street, Indianapolis, IN 46219, (317) 495-6600, HR: $89.  Quality Inn & Suites, 7050 E. 21st Street, Indianapolis, IN 46219, (317) 495-6607, HR: $89.  Please remember to mention "US Chess".
The Executive Board of U.S. Chess has added the Barber Champion to its list of qualifiers for the World Youth Championship and the Cadet Championship. The qualifying student in case of a tie will be the highest finishing player on tie-breaks who meets the eligibility requirements of the World Youth event for the U.S. Chess delegation and the Cadet Championship.
Procedures
Each State Affiliate (which shall include DC for purposes of this Tournament) shall be allowed one Representative as determined by their US Chess State Affiliate. The exception is California, which sends two players, one representing Northern California and the other Southern California. We strongly encourage each State Affiliate to identify a tournament to determine its K-8 Champion. State affiliates may not limit the selection process for the Barber, to exclude students below the Middle School grades, since this event is for players in Kindergarten through 8th grade. If no open
tournament is held, then a state affiliate invitational composed of the highest rated K-8 players may be used. If that is not possible then the highest rated K-8 player should be offered the opportunity to play.
If the official representative is unable to compete, the State Affiliate may substitute its next most qualified player, etc. Each State Affiliate should make every effort to send a representative to this prestigious event. Jon Haskel, Barber Committee Co-Chair will mail the Barber Nomination Form to the authorized State Affiliate official. The official needs to email the form back to Jon by July 5th. The Barber Committee reserves the right to appoint a representative for any State Affiliate that fails to meet this deadline. To eliminate byes, the host state (state in which the tournament is held) may provide an alternate who will only play in rounds that have an odd number of players. The alternate is eligible for prizes.
Eligibility
All participants must be residents of the State Affiliate they represent. They must be under the age of 16 on September 1 of the year in which the tournament is held. They must have taken at least 50% of their educational instruction in an approved K-8 curriculum. The Representative may not be listed as a full-time student at any high school, college, or university. Proof of eligibility shall be the responsibility of the players and the US Chess state official certifying the Representative or Alternate. Current US Chess membership is required during this event.
Playing Schedule
The Opening Ceremony and 6-round Swiss will consist of the following dates and times:
Opening Ceremony-3 PM Saturday, July 30, 2016 (REQUIRED ATTENDANCE AND CHECK-IN). All participants, including the host state alternate, are required to attend.
Round 1-Saturday, July 30, 2016 7 PM Same time as the round of the US Open.
Round 2-Sunday, July 31, 2016 12:00 Noon.
Round 3-Sunday, July 31, 2016 7 PM Same time as the round of the US Open.
Round 4-Monday, August 1, 2016 12:00 Noon.
Round 5-Monday, August 1, 2016 7 PM Same time as the round of the US Open.
Round 6-Tuesday, August 2, 2016 10 AM.
Barber Awards Ceremony – Tuesday, August 2, 2016 4 PM.
Players who complete all six rounds of their tournament may enter the US Open with a 50% discount.  This discount will be available for onsite registrations at Chess Control Tuesday after completion of the sixth round.  To avoid online registration fee refunds, please register onsite.  The host state alternate may only receive this discount if he/she was available to play during all rounds of the Barber tournament.
Rules
Players are required to play all six rounds. Players unable to play because of illness or other emergency need to notify the TD staff so that the host state's alternate can be substituted. Players who withdraw or are expelled forfeit all prizes. Each player is required to furnish a complete and legible scoresheet at the conclusion of each round. The time control will be 90 minutes per player with a 30 second increment added after each move. This event will be FIDE rated.
Prizes
BARBER CREATES COLLEGE SCHOLARSHIP
Dewain Barber has created a $5,000 College/University Scholarship that will be awarded to the 1st Place finisher in the 2016 Dewain Barber Tournament of K-8 Champions in Indianapolis, Indiana. The winner may use this award at any school of higher learning of his or her choice. If there is a tie for 1st Place, the Scholarship will be awarded to the highest finisher on tiebreaks. To redeem this Scholarship, the recipient must present proof of enrollment in a school of higher learning to the US Chess Trust, a 501(c)(3), non-profit organization and major sponsor of the Barber event.
During the Opening Ceremony, each participant will receive a Gold Medallion provided by American Chess Equipment Inc. Cash Prizes and gift certificates are awarded during the Closing Ceremony. Cash prizes are given for the purpose of reimbursing players for expenses incurred in the participation of this tournament. Players must be in attendance to receive their prizes.
1st place – $800 , 2nd Place – $500, 3rd Place – $400, 4th Place – $300, 5th Place – $200. All players tied for 5th Place will receive a minimum of $200.
Gift Certificates
These must be redeemed with the 2016 US Open Bookstore prior to the end of the US Open. They will be awarded in the following categories: Best Game, Biggest Upset overall, Biggest Upset in each of the other rounds and State vs State.
State versus State Championship
There are three special tournaments running concurrently at the US Open. Besides the Barber Tournament of K-8 Champions, we also have the Denker Tournament of High School Champions and the National Girls Tournament of Champions. This year we will recognize those states whose representatives had the highest combined score. If the host state has two representatives for any of the three events, only the primary representatives' scores will count for purposes of the state team totals. Gift Certificates will be awarded to each player from the three highest scoring states (Open to all states). In addition, Gift Certificates will be given to each player of the top state whose average rating of its players is from 1900-2099, 1700-1899 or U1700. States must have at least two players to be eligible for team prizes.
Internet Chess Club Membership (ICC)
Each of our participants will receive a free two year ICC membership and if a current participant is already a member then they will receive an extension of two years on their current ICC membership.  This two year ICC membership will become available upon completion of the six rounds.
Sponsors
The sponsors are Dewain Barber, The U.S. Chess Trust, US Chess, Dwight Barber, American Chess Equipment, Inc., The Internet Chess Club (ICC), Frank Niro and Chess Magnet School.
Travel & Accommodations
Players are responsible for their own travel and accommodations. Players sharing rooms should make their arrangements carefully, as neither US Chess nor the tournament is responsible for any consequences arising from such arrangements. Please note that registration in a hotel room will require a person 18 years of age or older to be present.
Contact Information-Confirmation of Participation
Each State Affiliate needs to request and complete the Nomination Form from the Barber organizer (Jon Haskel).  Each player must provide the Barber Co-Chair/Representative with a phone number of a parent or other responsible adult in case of an emergency.
Parents are required to confirm participation with Jon Haskel-jon@bocachess.com.
Barber Organizer/Co-Chair: Jon Haskel, 2385 Executive Center Dr. #100, Boca Raton, FL 33431 Cell-(561) 479-0351.
Find out more at www.BarberChess.com