Congratulations Awonder Liang, Ruifeng Li and Sarah Chiang!

The U.S. Chess Trust is a proud supporter of the Schein-Friedman Scholastic Recognition Project Our scholarships and programs are supported by charitable donations and the Trust does not receive any grants nor government funding.  Our donors help us support this and many other programs.
PRESS RELEASE
4th Annual Schein – Friedman Awards Announced
By Mark Schein and Aviv Friedman
December 30, 2011
The Schein – Friedman Scholastic Recognition Project is glad to announce its fourth year scholarship recipients! Like last year, we have decided to forego the ranking process, and equally divide the awards among the recipients. Each winner will receive a $3000 scholarship. This year's winners are Awonder Liang, Ruifeng Li, and Sarah Chiang.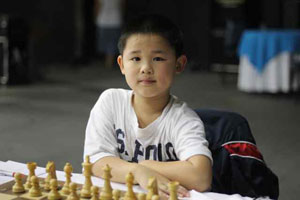 Awonder is an 8-year-old from Wisconsin, is the newest and youngest American world champion, having recently won the gold medal at the World Youth Championships in Brazil. The USCF's top ranked player for his age group, Awonder is a two-time national scholastics champion. He is fast closing on his immediate goal of making master.
10-year-old Ruifeng (left) who hails from Texas, is a multiple times national scholastics champion. Mostly self-taught Ruifeng is a USCF expert, and ranked second on his age group list. He is the world's vice champion in the under 10 category, recently winning a silver medal at the World Youth championships.
Sarah Chiang Texan Sarah Chiang is 14 years old, and is the country's top girl under 16 years of age. She recently reached a rating of 2200 and was awarded the master title. She is a 2007 vice world champion in the girls under 10 category (winning the silver medal), and tied for third (fourth on tie breaks) in this year's girls under 14 championship.
Congratulations to all the recipients! And a special thank you to all who applied.
The Schein – Friedman project is designed to help some of our younger champions improve and dedicate themselves more to chess, while offsetting the financial expenses that usually come with those. Hopefully the project will reward excelling youngsters, and help them become tomorrow's best players and Grandmasters. At the same time they would be serving as role models and inspiration to the entire scholastic community.
Our program is generally geared towards youngsters age 7-17. Occasionally, in cases of unusual excellence (considerably exceeding the program's criterions), applications by players up to age 20 would be considered.