A special congratulations to Abby Marshall, the first woman to win the Denker!  Beatriz Marinello, our web editor, took a moment to congratulate Abby Marshall on her win and ask her how it felt to be the first woman to win this tournament – Check it out!
(August 6, 2009)
Beatriz Marinello:
Congratulations on winning the Denker Tournament! How does it feel to be the first woman to win the Denker?
Abby Marshall:
Thanks very much! It feels awesome. I feel that women's chess is on the rise and this is just one step to women reaching equality with men on the chessboard.
I think it won't be long before another girl wins the Denker. Of course it's special now cause I just happen to be the first but really there are lots of strong young female players who I predict will be great champions. I'm excited 🙂
Below you will find the results, report, photos and additional information about the Denker Tournament.

Denker Tournament Report:
Abby Marshall from Virginia (2181), a junior, won the Denker Tournament of HS Champions with a 5.5-.5 score. She won her first five games, defeating higher rated players in Rounds 3-5, including two Masters, Robert Lau of Hawaii and Patrick John Tae of Tennessee.
This is the first time a girl has won the Denker and two girls competed. Abby is a former winner of the Polgar Invitational for Girls two years ago and the first Polgar winner to also win the Denker.
The only player to draw her, Michael Yang of Minnesota (2191) tied for 2nd with Jeffrey Haskel of Florida (2278) with 5-1 scores. Both drew two games and won all the rest.
Steve Breckenridge of Oregon (2150) was sole 4th place at 4.5-1.5. Nine players tied for 5th place with 4-2, led on tiebreak by Robert Lau of Hawaii.
Michael Yang also won the Ursula Foster Scholarship worth $500 towards college.
Top Upset Prize was taken by Chris Andrews of Wyoming (1118) , who defeated a player rated 1694.
Abby Marshall won an $800 scholarship and would have won a full scholarship to University of Texas at Dallas except she previously won that when she won the Polgar.
48 players competed and only Montana, Mississippi, and the District of Columbia were not represented. This excellent turnout was due to the fine work of Denker Chairman Dewain Barber of Southern California.
The prizes and travel money were donated by the U.S. Chess Trust with Mitchell Denker, GM Arnold Denker's son being the chief sponsor.
U.S. Chess Trust Chairman, Harold Winston, spoke about Arnold Denker at both the opening and closing ceremonies and Chess Trust Managing Director, Barbara DeMaro also spoke at the closing.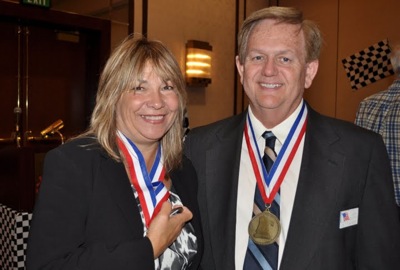 Both Winston and DeMaro were honored by Barber by presenting them with Denker medallions recognizing their long time support for this tournament.
Mitchell Denker planned to attend but had problems with flights being cancelled and was unable to make it.
More About the Denker Tournament
"The U.S. Chess Trust, Mitchell Denker and the National Scholastic Chess Foundation awards $2200 in Scholarships (1st place: $800, 2nd place $500, 3rd place $300, 4th place $300 and 5th place $300). This year the tournament was played during the 2009 U.S. Open in Indianapolis, Indiana from August 1, 2009 to August 4, 2009.
The "Denker" is considered a prestigious event held in memory of Grandmaster Arnold Denker who helped found it and who helped support it financially for over 20 years. Scholarships totaling $2,200 are now awarded to the top five finishers, through the generosity of GM Denker's son, Mitchell, the U.S. Chess Trust and the National Scholastic Chess Foundation."
Congratulations to all the players!