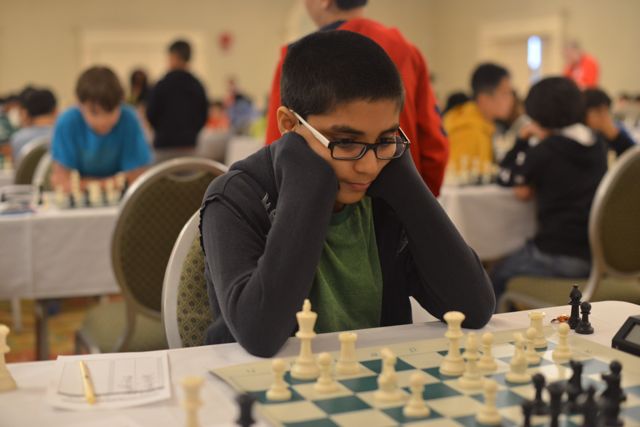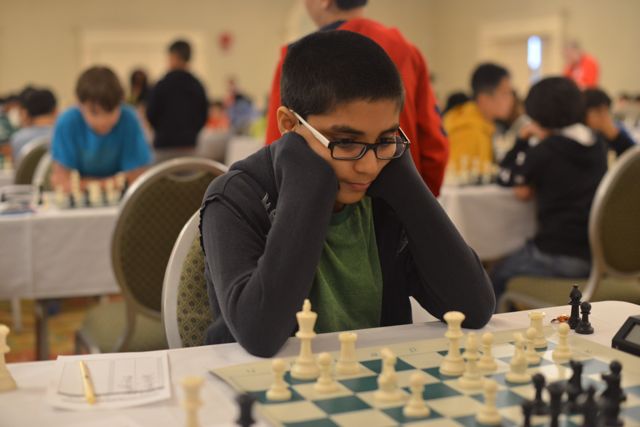 Barber Tournament of K-8 Champions Results
ADVAIT PATEL TOPS A FIELD THAT INCLUDED EIGHT OTHER MASTERS
Advait Patel (WV) won the 2014 Barber Tournament of K-8 Champions with a clear first of 5/6. The participants included a record nine Masters.
There was a four way tie for second through fifth place each scoring 4.5/6 led by Angel Hernandez-Camen (PA), Bovey Liu (TX), Joshua Sheng (CA-S), and Michael Chen(MI). Tournament results can be found at: http://www.alchess.com/chess/14/usopen/?page=STANDINGS&xsection=barber
NEW JERSEY EDGES FOUR OTHER STATES FOR THE FIRST STATE TEAM CHAMPIONSHIP
This year for the first time a competition was organized among the states. The scores of each state's Denker, Barber and NGIT representative were combined to identify the state team score.
With a total of 13 points, New Jersey (Christopher Wu, John Burke, Kimberly Ding) won the inaugural competition.
Tied for second through fifth place with 12.5 were New York (Joshua Colas, David Brodsky, Lilia Poteat), Southern California (Nicky Korba, Joshua Sheng, Annie Wang), Rhode Island (Christopher Gu, Ryan Sowa, Alana Mc Guinness) and Michigan (Edward Song, Michael Chen, Soumya Kulkarni).
A special thanks to Dewain Barber for providing Barber Tournament results.