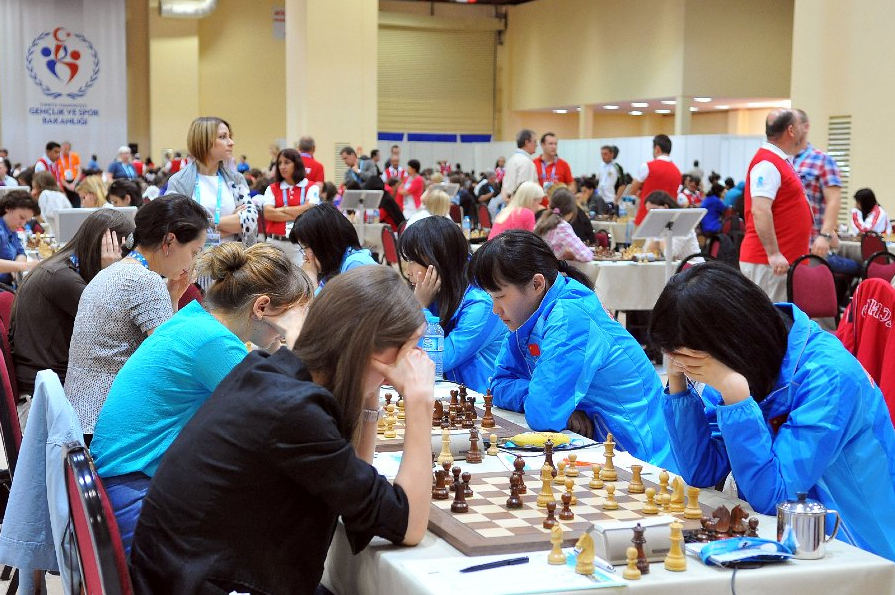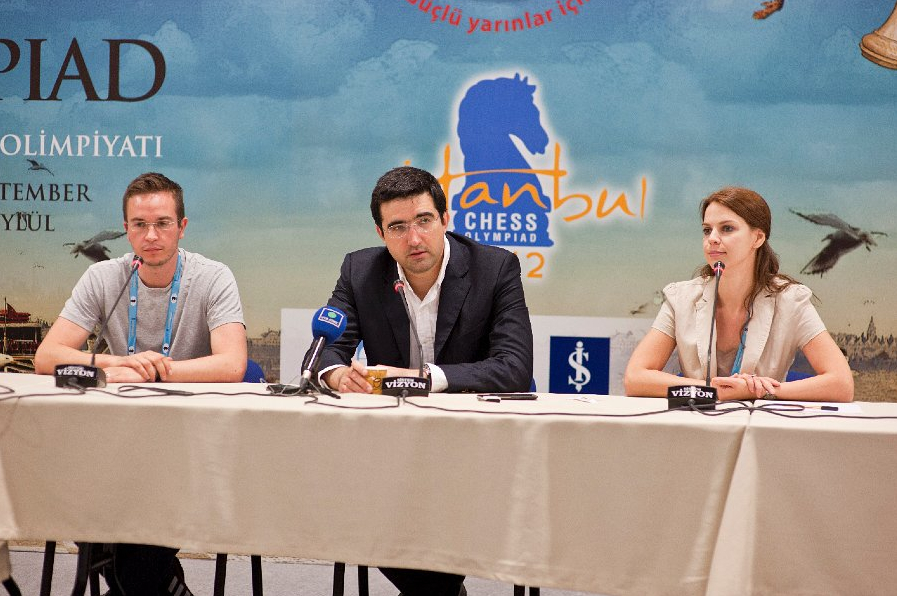 FIDE.com
The 6th round of the 40th Chess Olympiad was a showcase of classic monster matches. When Godzilla and King Kong fight you don't get in the way. You step back and watch the destruction hoping you don't become collateral damage. You're torn between wanting to see one of the monsters completely destroyed or having them step back to lick their wounds living to fight again.
In the Open section, top seeds Russia and Armenia met with monster mayhem on boards 1 and 2. Kramnik with the white pieces searched for some small opportunity to squeeze his Armenian opponent and his opportunity came about when Aronian pressed too hard, handing Kramnik the victory.
Vladimir Kramnik's press conference / Replay games with analysis / Round 6 video

On the board next to them the classic Sasha Grischuk appeared, throwing himself into an insanely complicated position but it was not meant to be for Sasha and he lost. The bottom two boards drew their games and the match was tied 2-2.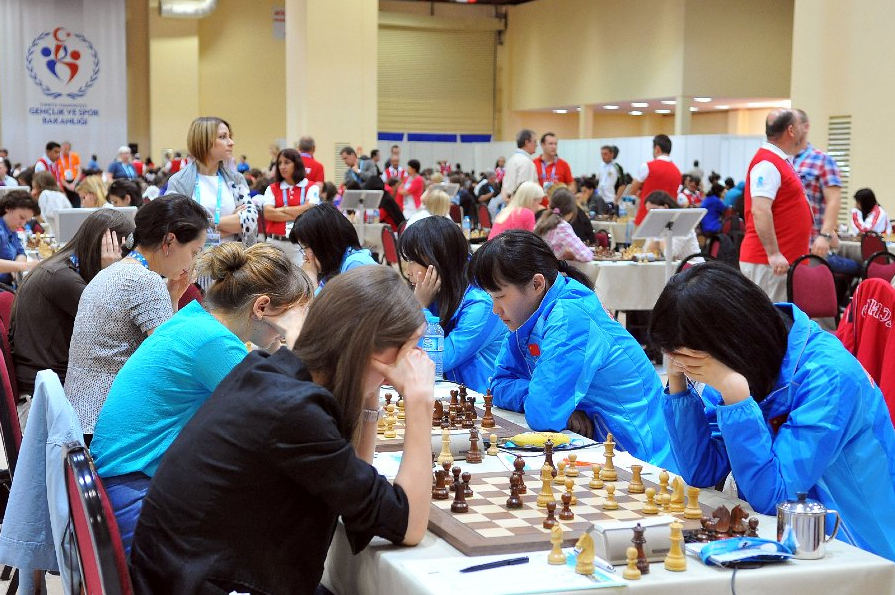 China delivered blow after massive blow taking their opponents of Bosnia down with a score of 3,5-0,5. Hungary and Azerbajian dispatched of their opponents, Poland and Croatia respectively, with score of 3-1. After Leko's game, he was in the press room analyzing his game. Watch the short video on the official YouTube site of the Olympiad.
Finally, the USA and German teams held each other to a draw with even scores on all boards. No boards seemed to ever be in any danger of losing their games.
A three-way tie exists for first place with Russia, Armenia, and Azerbaijan respectively. These results leaves the medal hunt still wide open with 5 rounds left to go.
In the Women's section, favorites Russia and China squared off. They exchanged losses on boards 1 and 2 respectively and drew on boards 3 and 4. A near identical repeat of what happened in the Open section. Board 4 was first to complete with a bloodless bishop of opposite color draw, but it soon was to get bloody when WWCC Yifan Hou delivered the death blow to T. Kosintseva. The elder Kosintseva avenged her younger sisters loss by dispatching of her opponent to even up the match score. Board 3 soon drew afterward securing a drawn match.
Russia's lead is now gone, as the ladies of Poland caught up with a massive win over Serbia. Led by GM Socko, Poland took out Serbia with a score of 3,5-0,5.
Georgia, Ukraine, France and Vietnam have all moved ahead with neat victories in the 6th round. Spain and Hungary exchanged a pair of wins and drew two games to finish the match in a 2-2 tie.
Read the transcript of the press conference with the captains of the French teams.
Live Games / Live Video / Pairings & Results / Photos / Videos