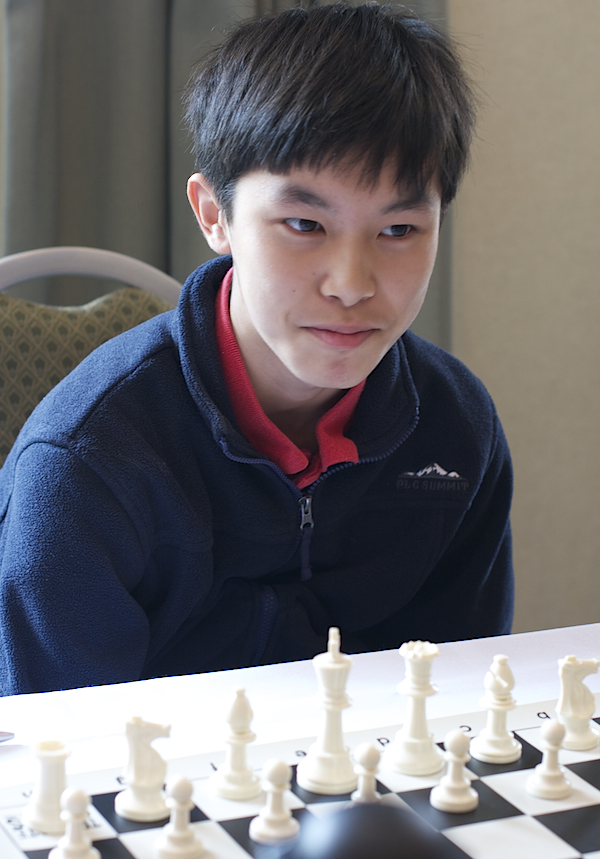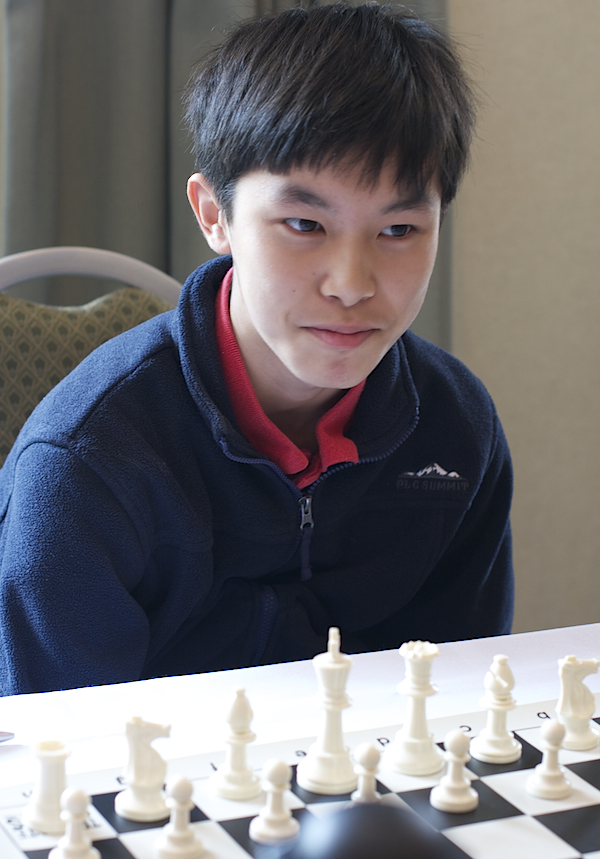 The U.S. Chess Trust is a proud sponsor of the Denker Tournament of High School Champions. Congratulations Christopher Gu!
UTD GOES TO RHODE ISLAND
Christopher Gu (RI) with clear first of 5.5/6 in the 30th Annual GM Arnold Denker Tournament of High School Champions took the University of Texas at Dallas, four year scholarship with a fine performance against a very strong field. The participants included four Senior Masters and 12 Masters. It was a big challenge to reach higher than 5/6.
Edward Song (MI) was the clear second place finisher with a score of 5/6. There was a three way tie for third through fifth place, each scoring 4.5/6 led by Nicky Korba (CA-S), Christopher Wu (NJ) and Joshua Colas (NY). Tournament results can be found at: http://www.alchess.com/chess/14/usopen/?page=&xsection=denker
NEW JERSEY EDGES FOUR OTHER STATES FOR THE FIRST STATE TEAM CHAMPIONSHIP
This year for the first time a competition was organized among the states. The scores of each state's Denker, Barber and NGIT representative were combined to identify the state team score.
With a total of 13 points, New Jersey (Christopher Wu, John Burke, Kimberly Ding) won the inaugural competition.
Tied for second through fifth place with 12.5 was New York (Joshua Colas, David Brodsky, Lilia Poteat), Southern California (Nicky Korba, Joshua Sheng, Annie Wang), Rhode Island (Christopher Gu, Ryan Sowa, Alana Mc Guinness) and Michigan (Edward Song, Michael Chen, Soumya Kulkarni).
A special thanks to Dewain Barber for providing Denker results.
2014 Denker Tournament of High School Champions Results
Prize Winners
1st Place Christopher Gu
2nd Place Edward Song
3rd Place [3-Way Tie] Nicky Korba, Christopher Wu and Joshua Colas
UTD Scholarship Winner
Denker Champions: (Name and Year)
Christopher Gu, 2014
Kapil Chandra, Safal Bora, Michael Brown, 2013
Atulya Shetty (MI), Darwin Yang (TX), 2012
Michael Vilenchuk (OH), 2011
Steven Zierk (CA-N), 2010
Abby Marshall (VA), 2009
Daniel Yeager (TX), Julian Landaw (CA-S), Scott Low (MD), 2008
Warren Harper (TX), 2007
Nelson Lopez (TX), 2006
Trevor Jackson (IN), Zhi-Ya Hu (MD), Josh Bakker (MA), 2005
Mackenzie Molner (NJ) , Pieta Garrett (AZ), 2004
William Aramil (IL), Ryan Milisits (PA), 2003
Bruci Lopez (FL), 2002
Thomas Bartell (NJ), 2001
David John (TX), John Cole (IN), Matt Hoekstra (NC), Joshua Zilmer (WI), 2000
Andrei Zaremba (MI), Steven Winer (MA), 1999
Florin Felecan (IL), 1998
Andrei Zaremba (MI), Andrew Whatley (AL), 1997
John Bick (LA), 1996
Charles Gelman (VA), 1995
Dean Ippolito (NJ), Josh Manion (WI), Paul Rohwer (NE), Dmitry Zilberstein (CA-N), Aaron Wenger (OH), 1994
Alex Kalikshtyn (NY), 1993
Vadim Tsemekhman (Eric Torman) (MI), 1992
Alan R Stein (CA-N), 1991
Alex Feldman (MN), Jesse Kraai (NM), Michael Lamon (CA-S), Mathew Morgan (VA), 1990
Jesse Kraai (NM), 1989
Vivek Rao (PA), Robby Adamson (AZ), Ilya Gurevich (MA), 1988
Vivek Rao (PA), 1987
Danny Edelman (NY), 1986
Alex Fishbein (WY), 1985