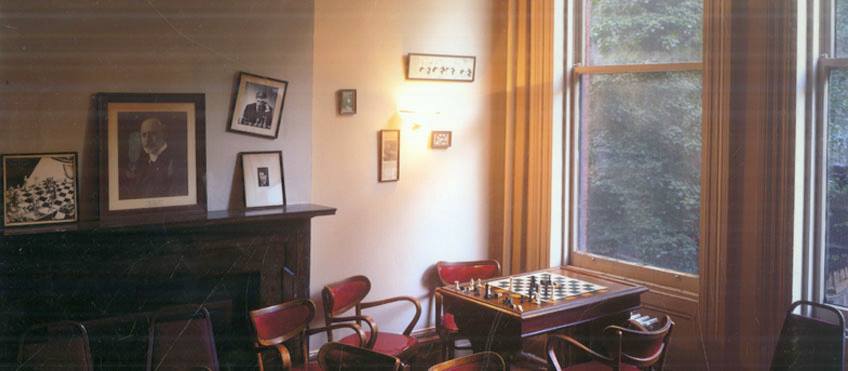 The Marshall Chess Club will host the Final Four of College Chess this weekend. Photo Credit: https://www.facebook.com/marshall.chessclub/
By Al Lawrence | March 30, 2016
This weekend, the historic Marshall Chess Club plays host to the national collegiate championship playoff, the Final Four of College Chess, also known as the President's Cup.
Each year, four teams advance from the Pan-American Intercollegiate Team Chess Championship in December. For the first time in its history, Texas Tech University won that open shootout among 42 college teams in Cleveland. But Webster University, which has won the Final Four three years in a row, once again comes to the tables with the highest-rated team, an all-GM quartet with an average US Chess rating of 2734. The University of Texas-Rio Grande Valley is a new name to top collegiate chess, but it's built on the former University of Texas-Brownville program after the consolidation of UT-Brownsville and UT-Pan American. Columbia University, a five-time Pan-American winner, makes its first appearance in the Final Four, which first brought together the top four for a playoff in 2001.
Teams are made up of four players from each university but may staff up to two alternates, an option only UT-RGV waived. The playoffs are a team-on-team round robin, with two rounds on Saturday, at 10 a.m. and 2 p.m., and one on Sunday, at 9 a.m., with a closing ceremony anticipated at 1 p.m.
The event is sanctioned by US Chess and generously sponsored by Booz Allen Hamilton and Two Sigma through the cooperation of the US Chess Trust. The Final Four is organized by Mark Herman and directed by NTD and FIDE Arbiter Mike Hoffpauir.
Grandmasters Max Dlugy and Irina Krush will comment on the action. Follow them live online at www.chesssupersite.com. The Marshall Chess Club is located at 23 W 10th St, New York City. Admission to the Final Four is free to Marshall Club members and children under 13. Others pay $10.
Look for a complete report here at uschess.org by Al Lawrence.
Webster University
Average Team Rating of Top Four: 2734
GM Liem Le Quang (2773)
GM Ray Robson (2746)
GM Illia I. Nyzhnyk (2718)
GM Alexander Shimanov (2698)
GM Vasif Durarbayli (2686)
GM Fidel Corrales-Jimenez (2593)
Texas Tech University
Average Team Rating of Top Four: 2652
GM Yaroslav Zherebukh (2678)
GM Elshan Moradiabadi (2670)
GM Andrii Baryshpolets (2631)
IM Andrey Gorovets (2629)
IM Alexander Battey (2357)
WIM Iryna Andrenko (2300)
University of Texas – Rio Grande Valley
Average Team Rating of Top Four: 2628
GM Anton Kovalyov (2679)
GM Andrey Stukopin (2664)
GM Holden Hernandez (2603)
GM Carlos Hevia (2566)
Columbia University
Average Team Rating of Top Four: 2342
IM Arthur Shen (2495)
FM Kyron W. Griffith (2415)
NM Aaron Jacobson (2329)
Jonathan J. Pagan (2127)
Theodore Ja Coyne (2066)
Anthony Panat (2026)