News
Congratulations to the 2020/2021 U.S. Chess Hall of Fame Inductees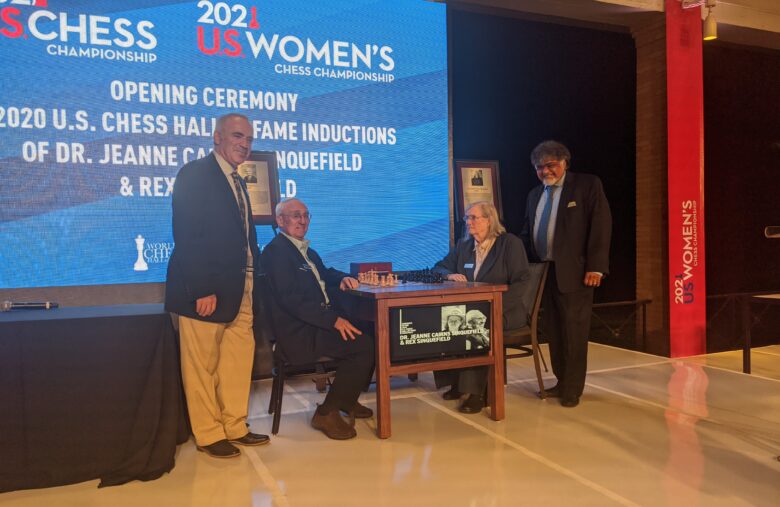 US Chess Trust VP of Scholastics Sunil Weeramantry (far right) banged the gavel, inducting Jeanne and Rex Sinquefield (seated) in the U.S. Chess Hall of Fame. Former world chess champion Garry Kasparov (far left) told the crowd that the Sinquefields didn't just change chess but "changed lives."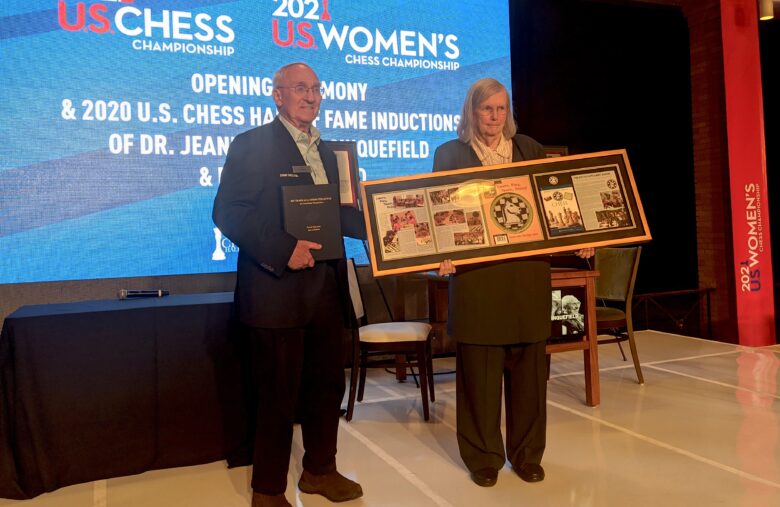 About the 2020 and 2021 U.S. Hall of Fame Inductees
Rex Sinquefield
(1944- )

Raised in Saint Louis, lifelong chess player Rex Sinquefield has transformed his hometown into the Chess Capital of the United States. In 2008, he founded the Saint Louis Chess Club (STLCC) with his wife, Dr. Jeanne Cairns Sinquefield, and they later provided the funding to move the World Chess Hall of Fame to Saint Louis. The STLCC has become home to championship chess in the U.S., hosting numerous national tournaments, in addition to bringing the benefits of chess to over 75,000 students. Rex has also made history through the creation of the Sinquefield Cup and Cairns Cup, the strongest-ever tournament and strongest women's tournament held on American soil. His efforts, including supporting the U.S. national team and creating tournaments that allow new chess talents to grow, have attracted top players and revitalized chess in the United States.
Dr. Jeanne Cairns Sinquefield
(1946- )

In 2008, Dr. Jeanne Cairns Sinquefield founded the Saint Louis Chess Club (STLCC) with her husband, Rex, and they later provided the funding to move the World Chess Hall of Fame to Saint Louis. Through the STLCC, they have helped to bring the benefits of chess to thousands of students throughout the country. Passionate about the Scouts BSA, Jeanne instigated the creation of its chess merit badge, which has now been earned by over 225,000 Scouts. With fellow Scouts, she also created Chess2Go, a compact portable chess set in 2012. In 2019, Jeanne wrote a book about chess notation, Learn to Read and Write Chess. The same year, she established the Cairns Cup, a world-class women's chess tournament that was held again in 2020.
Frank Brady
(1934- )

Born in New York, Frank Brady has made a lasting impact on the chess world through his literary and organizational efforts. His books on Bobby Fischer—two editions of Profile of a Prodigy and Endgame—are the most acclaimed biographies ever written about a chess player. He oversaw the transition of the US Chess publication Chess Life from newspaper to magazine, which he edited for several years. He also edited and published the critically acclaimed Chessworld. Brady has performed many significant organizational functions in American chess for over half a century. He served as a member of the Executive Board of the US Chess Federation and was its business manager and ratings director in its early years. An International Arbiter for FIDE, he conducted national and international tournaments. Brady was also President of the legendary Marshall Chess Club and is now its President Emeritus.
James Sherwin
(1933- )

Born in New York, International Master James Sherwinwas one of the most successful U.S. Chess Championship participants of the 1950s and 1960s. Competing in eight events, several of which included Bobby Fischer, he finished third or fourth on six separate occasions. Sherwin's third-place finish in the 1957-58 U.S. Championship qualified him for the Interzonal where he scored 50% against the six qualifiers for the Candidates Tournament. New York State champion at 17, Sherwin represented the U.S. in the 1953 World Junior Championship. In 1956, Sherwin shared top honors in the U.S. Open with U.S. Chess Hall of Fame inductee Arthur Bisguier. Sherwin served as president of the American Chess Foundation from 1979 to 1990, when it provided critical financial support for top U.S. players.
About the 2021 World Chess Hall of Fame Inductees
Judit Polgar
(1976- )

Judit Polgar is universally recognized as the strongest female player of all time. She was first rated in the top 100 players in the world at age 12 when she won three gold medals at the 1988 Olympiad in Thessaloniki. This performance also catapulted Judit to the world number 1 ranking for women, a position that she maintained for the next 26 years. Judit broke Bobby Fischer's record as the youngest grandmaster in 1991. Polgar is the only woman to have ever reached the Candidates stage in the world, and to have been rated over 2700, reaching a peak of 2735 in 2005. During her career, she defeated 11 current or former world champions in rapid or classical chess. Polgar was a member of the 2014 silver medal-winning Hungarian Olympiad team and won seven other medals in Olympiads.
Miguel Najdorf
(1910-1997)

Miguel Najdorf, whose name is associated with one of the most famous openings in chess, was one of the top players in the world in the 1940s and 1950s. Born in Poland, he settled in Argentina after playing in the 1939 Buenos Aires Chess Olympiad. He was also one of the most successful performers in Olympiad history, winning seven team (four silver and three bronze) and four individual medals (three gold and one silver) in 14 competitions over four decades. In 1947, he faced 45 opponents in blindfold chess, setting a record that stood until 2011.
Eugene Torre
(1951- )

Philippine grandmaster Eugene Torre has been a trailblazer for Asian chess for half a century, achieving a number of continental milestones including first grandmaster (1974), first to defeat a reigning world champion (Anatoly Karpov in 1976), and first to reach the Candidates stage of the World Championship (1982-1983). A member of the Philippine Olympiad team a record 23 times, Torre won three individual medals on board one (silver at Nice 1974 and bronze at Malta 1980 and Dubai 1986). He also won a bronze medal on board three at Baku 2016 at the age of 64. Torre was the official second of Bobby Fischer in his 1992 rematch with Boris Spassky.
About the Chess Halls of Fame

The World Chess Hall of Fame (WCHOF) celebrates the accomplishments of the game's greatest players from the United States and across the globe. The institution houses both the U.S. and World Chess Halls of Fame, which as of March 2019 counted 66 and 39 members, respectively. New inductees are honored in an annual ceremony, which has been held in Saint Louis, Missouri, since 2011. Since 2012, the inductions have been held during the opening ceremonies for the annual U.S. Chess Championship and U.S. Women's Chess Championships.