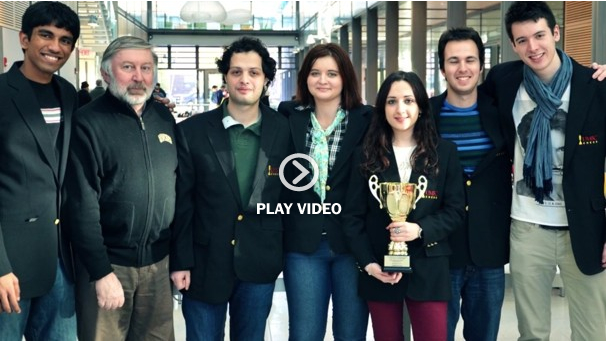 April 6-7, 2013
The U.S. Chess Trust sponsors the College Final Four of Chess.

Teams:  Here are the Final Team Rosters for the 2013 College Final 4 of Chess. This sequence of players is now fixed for the remainder of the tournament.
All ratings shown are from the February Rating Supplement, the official supplement for this event.
Round 1, the Match-ups are:
Webster vs. Univ of Illinois, with Webster playing White on Board 1
UT Dallas vs. UMBC, with UT Dallas playing White on Board 1
Team 1: Webster University (Avg Rating 2689)
GM Meier, Georg (2694)
GM So, Wesley (2714)
GM Robson, Ray (2697)
GM Corrales Jimenez, Fidel (2650)
GM Hoyos, Manuel Leon (2652)
GM Bykhovsky, Anatoly (2618)
Team 2: University of Texas at Dallas (Avg Rating 2614)
GM Yotov, Valentin L (2650)
GM Sadorra, Julio C (2641)
GM Chirila, Ioan Cristian (2590)
GM Holt, Conrad (2574)
IM Pavlovic, Milos M (2537)
IM Bercys, Salvijus (2496)
Team 3: University of Maryland, Baltimore County (Avg Rating 2510)
GM Margvelashvili, Giorgi (2606)
GM Huschenbeth, Niclas (2594)
IM Paikidze, Nazi (2449)
WGM Foisor, Sabina-Francesca (2391)
NM Balasubramanian, Adithya (2325)
Team 4: University of Illinois (Avg Rating 2213)
FM Rosen, Eric S (2381)
Auger, Michael W (2183)
Luo, Xin (2190)
Meduri, Aakaash (2096)
Check out this great article in the Washington Post!
As chess championship begins, a new college-sports arms race emerges.

By Michael S. Rosenwald, Published: April 5

In the cutthroat world of college chess, University of Maryland Baltimore County was once as dominant as Duke in basketball or Alabama in football.

UMBC was the first school to institutionalize scholarships for top players, recruiting grandmasters from Russia, Germany, Israel and beyond. The playbook worked, enabling a school few had heard of outside Maryland to rack up six "Final Four" championships and build a reputation as an intellectual powerhouse on the cheap. Read the article on The Washington Post website >>