International Koltanowski Conference on Chess in Education
July 29 & 30, 2021
Crowne Plaza Philadelphia in Cherry Hill, New Jersey
The conference is being held July 29 – 30, 2021 at the Crowne Plaza Philadelphia Cherry Hill; 2349 West Marlton Pike, Cherry Hill, New Jersey, 08002, USA. Audience will attend in person and online. The Conference will be streamed and available for later viewing.
Now in its 3rd edition, the International Koltanowski Conference on Chess in Education was created by Dr. Tim Redman, and this year's conference is held in his honor.
The Chess in Education conference is more significant than ever. In the last twenty years, there have been serious advances in chess across many fields — education, social development, cognitive research and many more. With panelists and speakers active in their specialties, the conference emphasizes praxis. The Board of the US Chess Trust values your participation in this conference. Please note that most of the presentations at the conference will be available online at www.uschesstrust.org
Schedule and Panelists
Thursday, July 29, 2021
| Time | Description | Presenter/Panelist |
| --- | --- | --- |
| 9:30 a.m. | Opening Remarks | USCT Managing Director Al Lawrence; FIDE President Arkady Dvorkovich; US Chess President Michael Hoffpauir |
| 10 a.m. | "Chess Fitness Might Ward Off Alzheimer's and Dementia; Physiological Changes of Chess Playing" | Dr. Robert Friedland, chief, Laboratory of Neurogeriatrics – University of Louisville; Dr. Leroy Dubeck, past president of US Chess (1970-1972), chess master and retired professor of physics |
| 11 a.m. | "Why Chess in the Schools?" | Bruce Pandolfini, co-founder of Chess in the Schools and consultant for the miniseries Queen's Gambit; David MacEnulty, award-winning teacher and legendary chess coach |
| Noon | "Increase Life Impact through Chess" | NM Elliott Neff, founder/director of Chess4Life, serving thousands of students in after-school classes, camps and tournaments |
| 1 p.m. – 3 p.m. | Lunch Break | |
| 3 p.m. | "Women and Girls in Chess" | Adia Onyango, Chair of the US Chess Women's Committee |
| 4 p.m. | "Chess and Philanthropy" | Dr. John D. Rockefeller V, Chair of the US Chess Development Committee, Vice Chair of the US Chess Scholastic Council, Scholastic Director of Maryland Chess |
| 5 p.m. | "Teaching Pattern Recognition through Chess: Linking Chess to STEM" | Siddhartha Sen, Ph.D., Principal Researcher at Microsoft Research New York City Lab, where he leads the AI/Systems group; and WIM Beatriz Marinello, Director of the Dalton School Chess Program, International Organizer and FIDE Trainer, past president of US Chess (2003-2005) |
| 6 p.m. | | Questions & Answers |
Friday, July 30, 2021
| Time | Description | Presenter/Panelist |
| --- | --- | --- |
| 9:30 a.m. | Opening Remarks | Dr. Tim Redman, Founder of the Koltanowski Conference, past president of US Chess (1981-1984; 2000-2001); and Dewain Barber, Dean of Scholastic Chess, creator of scholastic invitational events |
| 10 a.m. | "Chess and Education" | Sophia Rohde, Director of the New York State Chess Association, teacher, International Organizer and Arbiter |
| 11 a.m. | "Creating a Chess Curriculum" | Sunil Weeramantry, Executive Director of the National Scholastic Chess Foundation, legendary chess coach, author and Chair of the US Chess Scholastic Council |
| Noon – 2 p.m. | Lunch Break | |
| 2 p.m. | "Chess as an Equalizer | Chessplayers with Disabilities" — Jessica Lauser, US Blind Chess Champion; Pranav Shankar, team member of the 2021 FIDE Chess Olympiad for People with Disabilities and junior chessplayer |
| 3 p.m. | "The Role of FIDE in the Promotion of Chess in Education" | Dana Reizniece-Ozola, FIDE Managing Director, Deputy Chair of FIDE Management Board |
| 4 p.m. | Closing | |
Sponsor and Organizing Committee
The conference could not be held without the insightful sponsorship of the US Chess Trust and the hard work and dedication of the organizing committee. They deserve our thanks. Successful events don't happen on their own. Our thanks and gratitude to all of the panelist and participants.
About Dr. Redman

Tim Redman, Ph.D., founded the Chess Program at The University of Texas at Dallas and served as its Director for 10 years. Redman organized the first (2001) and second (2011) Koltanowski Conferences on Chess in Education. He will edit a volume devoted to the second and third Koltanowski Conferences.
About Koltanowski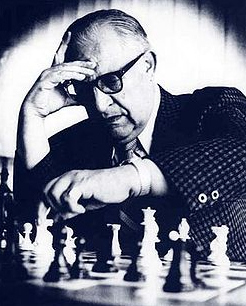 George Koltanowski (1903-2000) Belgian-born, "Kolty" held the blindfold chess record and popularized the Swiss pairing system in the U.S., essential to large tournaments. He amazed audiences and promoted chess with his feats of memory during his famous blindfold "Knights Tour" exhibitions. He served as president of US Chess 1975-1978. Kolty wrote the chess column for the San Francisco Chronicle for 52 years.