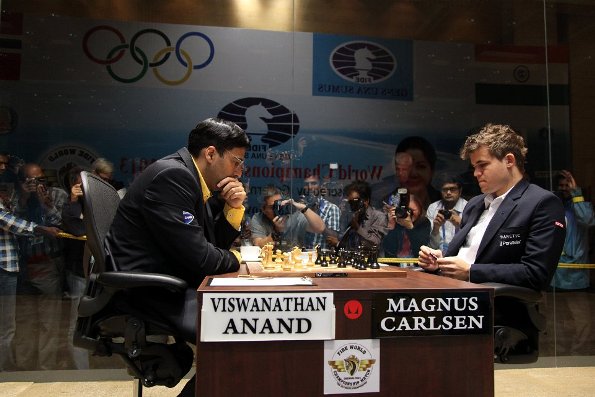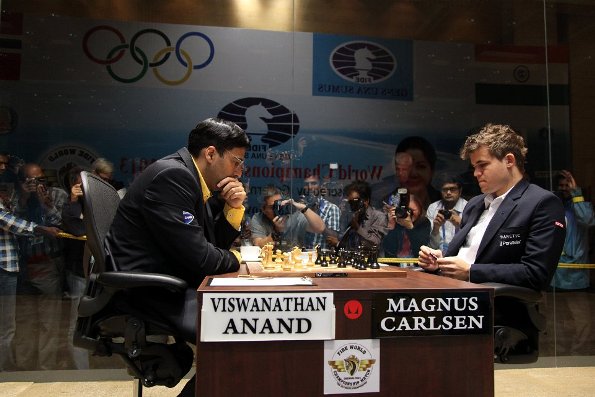 FIDE.com
Magnus Carlsen of Norway became the new World Chess Champion after defeating the previous champion Viswanathan Anand of India by 6,5-3,5 in the match that was held from 7th November in Chennai, India.
The last 10th game (out of 12 possible) finished in a draw after 65 moves of play and Carlsen accumulated the necessary 6,5 points to claim the title.
The match was sponsored by the Tamil Nadu state and organized by FIDE and AICF.
The 10th game started with the Sicilian defence. Anand attempted a sharper line with black, possibly Naidorf, but Carlsen stirred the play into quiet waters with an early trade of the light-squared bishops.
In the relatively stable pawn structure the players maneuvered the pieces until a careless queen move (28…Qg5) by Anand permitted a cute combination that would net a pawn for white.
Carlsen continued correctly (29.e5), but then released the tension too quickly when 30.Nc3 would have piled the pressure. Anand was allowed to win the pawn back.
After the massive exchanges on d6 a knight endgame appeared on the board.
Expecting a draw offer, the press room was getting ready to meet the players. However, the fight continued beyond the first time control.
New queens appeared on the board, one for each player, but the equilibrium was not ruined. Draw signed on move 65.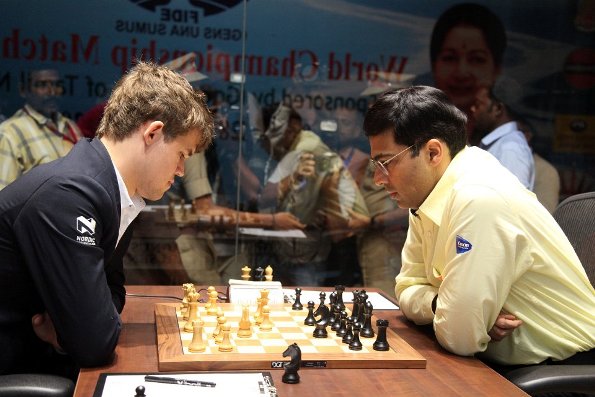 Replay: Live game G10
Round 1 / Round 2 / Round 3 / Round 4 / Round 5 / Round 6 / Round 7 / Round 8 / Round 9
Videos: Live video G10 / All videos here
Photos: Gallery G10 / Gallery G9 / Gallery G8 / Gallery G7 / Gallery G6 / Gallery G5 / Gallery G4 / Gallery G3 / Gallery G2/ Gallery G1 / Gallery Opening
News: All news and reports (chronological). FIDE.com