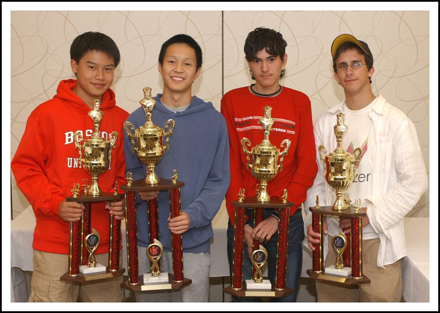 The 2nd Annual Rentschler Foundation High School Chess Championship to be held at the Holiday Inn in Cherry Hill, NJ on June 25 – 26 offers more than $21,000 in prizes. Repeat, $21,000!
This is a FREE (no entry fee) tournament in which students from any state who finished the school year in grades 9, 10, 11 and 12 are eligible to compete for college scholarships: 1st $2,500, 2nd $1,500, 3rd $1,200 and 4th $1,000. In addition to the place prizes, scholarships for $3,000, $2,000, $1,500 and $1,000 will be awarded to the top four players that reside in Southern New Jersey. As an added incentive to compete, a $100 participation prize will be awarded to each of the first 75 players who register for the event, complete all their games, and do not win one of the above prizes.
This event, with one of the largest prize funds in scholastic tournament chess, is being organized by All the King's Men Chess & Games Center of Pitman, NJ.
All the King's Men owner, Stephen Arnold Dick said, "Last year top players from the East Coast took home over $12,000 in prizes. This year our goal was to increase the prize pool and spread the wealth, hence, the $100 participation award. By doing so we feel that the spirit of what Mr. Rentschler started years ago is being better served".
Interested players are urged to register now since seating is limited to the first 100 entrants. For details, or to register for this event, please visit www.ATKMchessSets.com/freechess.