News
,
Tournaments/Events
U.S. Blind Championships: Dan Steininger Earns U.S. Blind Title, Saulo Torres Wins Tournament
The U.S. Blind Championships were held in Pittsburgh from August 19-20. 2011. Saulo Torres earned a perfect score and won $600, but was ineligible for the title because he is from Colombia. The U.S. Blind Championship title went to Dan Steininger on tiebreak. Congratulations to Dan who also won the title in 2010!
The decisive game, Saulo Torres vs Dan Steininger featured a Ruy Lopez.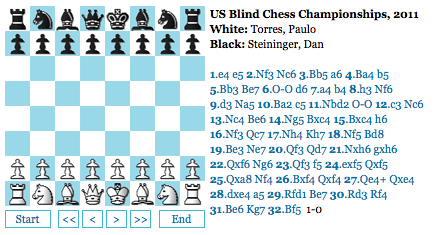 Rick Varchetto organized the event, as he has for several years, and arranged for transportation from the airport for all the out-of-town players.
Related Stories from other websites
"Chess Contest in Robinson to Crown Blind Champion"
By Craig Smith, PITTSBURGH TRIBUNE-REVIEW
Thursday, August 18, 2011
Ginny Alverson plays chess online with players from all over the world and in tournaments near her home in Boston.
She never has seen a chessboard.
Blind since birth, the Penn Hills native learned the game from her father, Robert, who worked at the former American Saint-Gobain glass plant in Jeannette. She began playing in tournaments in 1987 in Findlay, Ohio.
Alverson, 56, will be among the six or seven competitors at the U.S. Blind Chess Championship on Friday and Saturday in Robinson.
"I always like to play in Pittsburgh because it's home," she said.
The tournament, for legally blind U.S. Chess Federation members, consists of four games for each player. They are allotted 135 minutes for each game.
Players can range in age from 14 to 80. Opponents bring their own boards and sets and announce moves to each other, said chess master Bruce Leverett of Mt. Lebanon. Volunteers make sure they play opponents' moves correctly.
"They see by feel," said Richard Varchetto, who organizes the Pittsburgh championship. Players will compete for the title of 2011 Blind Chess Champion and cash prizes. First place this year will be $500 to $600.
Joe Wasserman, 77, of Oakland has played chess for 70 years.
"I could easily become addicted to chess if I let it, but I resist," said Wasserman, who sticks close to home to play and will compete in this weekend's event.
Others don't mind traveling.
Henry Olynick, 72, of White Plains, N.Y., has played in tournaments in Vermont, Massachusetts, Connecticut, Philadelphia, Washington and Florida. He'll be in Pittsburgh for this year's blind championship.
"I love the game," he said. "I'm going to keep playing until they kick me out." Click here for Pittsburgh Tribune article: http://www.pittsburghlive.com/x/pittsburghtrib/news/pittsburgh/s_752051.html