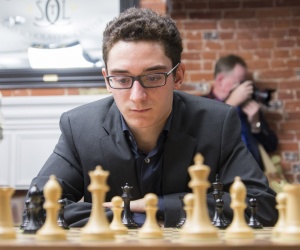 Congratulations to Rex Sinquefield a U.S. Chess Trust Trustee for a very successful event!
GM Fabiano Caruana won seven games and drew three for a stunning 8.5/10 and a large margin over the rest of the strongest-rated field in history.
By GM Ian Rogers
Fabiano Caruana finished the 2014 Sinquefield Cup with a solid draw against Levon Aronian to end the highest-rated tournament in history with a magnificent 8.5/10 — three points ahead of his nearest follower, the World Champion GM Magnus Carlsen.
Caruana's performance generated high praise from the other players and chess fans around the world. "Fantastico!" GM Hikaru Nakamura said. "Ruthless," said GM Maxime Vachier-Lagrave. There was one dissenting voice, however, that of Carlsen who, with clear sarcasm, summed up the Italian's triumph as "Depressing…"
Courtesy Sinquefield Cup Coverage – Read the Entire Article on the Official Website.