News
UT Dallas Repeats Win at Pan American Intercollegiate Championship!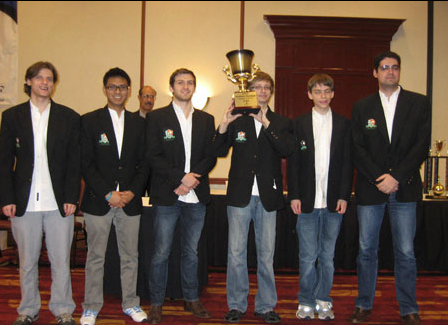 Congratulations to UT Dallas!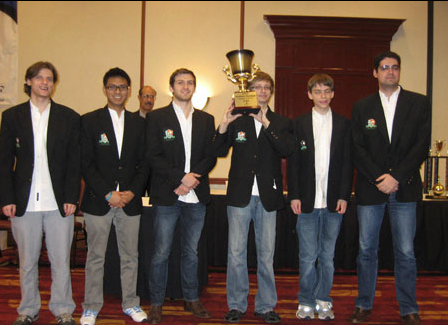 This year the Pan American Intercollegiate Team Chess Championship, held in Fort Worth, Texas, was co-hosted by UT Dallas and the Dallas Chess Club with sponsorship from the USCF.
Twenty-eight college teams participated. The 'Pan Am' is always held during the holiday's and New Year's Day.
Each team is composed by 4 players , and up to 2 alternates. The format of the competition is 6 round Fix Roster Swiss Tournament. The "Pan Am" is an open to College and Universities teams (at least two players) from North and South America including the Caribbean. Teams must supply letter from University stating that the players meet eligibility requirements.
For these talented chess players, playing competitive chess this time of year has just become another event to look forward to apart from the many family holiday traditions. In a sense, the Pan Am has become a holiday tradition in itself.
The Endgame: Top Universities Battle It Out
This year, the University of Texas at Dallas "UT Dallas" came in first with six points, UMBC came in second with 5 points, and Texas Tech and New York University tied for third with 4.5 points each.
In the endgames it became clear that the tiebreaks could play a factor in deciding this year's championship, although if teams tie for first place they are considered co-champions. The team with the better tiebreaks takes the first place trophy. The first tiebreak system is the USATE, which multiplies game points against each opponent by that opponent's final match score. This is according to the official event rules – which can be found here: Official Pan Am Rules (PDF)
The top four finishers in the tournament qualified for the 2012 President's Cup, the "Final Four of College Chess," to be held in Herndon, VA from March 30–April 1, 2012.
The top four finishers are:
UT Dallas (6-0 match wins; 1st place),
UMBC (5-1; 2nd place),
Texas Tech (4.5-1.5; third place on tiebreaks),
New York University (4.5-1.5; fourth place on tiebreaks).
Booz Allen Hamilton will sponsor the Final Four again in 2012.
Next year's Pan Am will be held at the Princeton University campus from December 27-30, 2012.
For the 2011 Pan Am standings go to http://www.swchess.com/sce/tourney/PanAms11/PanAmTm.htm
Let's look at the games…
Games courtesy of Monroi.
Congratulations to all of these talented young chess players!