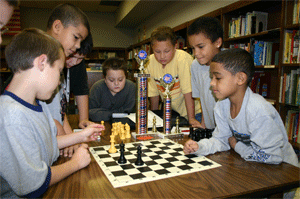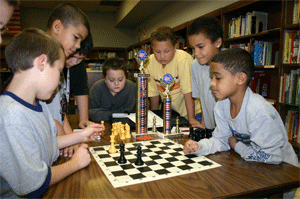 The benefits of chess are evident and have led to an increasing amount of interest in scholastic chess across the country. Are you wondering if you should start a Scholastic Chess Club in your school?  We can help you establish or continue your chess program.
The U.S. Chess Trust provides free U.S. Chess Federation memberships and chess playing equipment to support chess education programs across the nation. Restrictions apply.
There are two components to the Chess-For-Youth program:
Provision of free chess equipment (limit of up to five free boards and sets) to help start your chess program.
Provisions of free USCF memberships (limit of ten memberships per school) for needy students who are attending a Title I school and have never been a USCF member before (see definition of Title I under Free Membership Program Criteria).
Members receive a catalog filled with hundreds of the most up-to-date products, access to tournament information in print and on the website, as well as the right to play in rated OTB (over-the-board) and correspondence chess tournaments.
For more info about our program:
If you have questions, comments or concerns, please feel free to contact us atinfo@uschesstrust.org.
Reading Material: A Guide To Scholastic Chess (2009 10th Edition) PDF